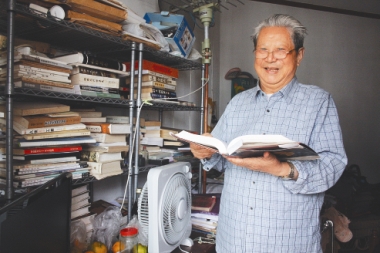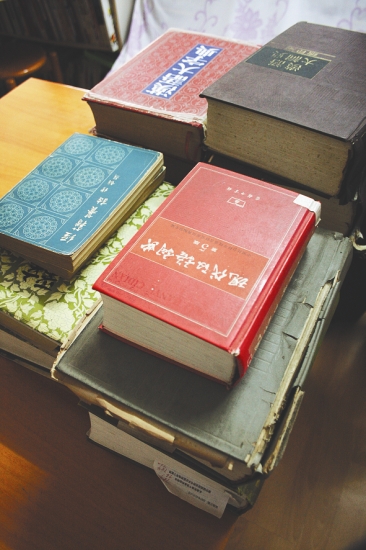 My greatest desire is to encourage future generations to continue my work."— Hu Zhaozhu, a retired professor of ancient Chinese literature
    Liu Minxia
    TRADITIONAL Chinese philosophy encourages people to take things lightly as they grow older, but one octogenarian in Shenzhen refuses to lose his hunger for knowledge.
    Hu Zhaozhu, a retired professor of ancient Chinese literature, said raising questions is in his nature, so he has challenged the most authoritative dictionary of the Chinese language, "Cihai," or "Sea of Words," by uncovering more than 100 errors in it. Once he accidentally poisoned himself by eating a cycas seed when trying to verify some information in the dictionary.
    Despite having overcome several illnesses in the past 10 years, Hu, empowered by 50 years of research and teaching experience, compiled a book that points out the errors in some widely accepted analyses of ancient Chinese poetry.
    "Many people persuaded me to stop making a fuss about scholastic content," Hu explained with a smile while sitting in his simple home in Futian District. "They don't understand why I remain so persistent. But my greatest desire is to encourage future generations to continue my work."
     Defying "Cihai"
    Following his retirement from teaching as an associate professor at Shaoguan University in Guangdong, Hu came to Shenzhen and noticed the abundance of cycas. "Even in the housing estate where I live, there are dozens of such trees," Hu said. "I didn't notice until I found a cycas with red seeds when strolling in Lianhua Hill Park on Dec. 6, 2003."
    An ancient saying says cycas don't blossom. How could one have seeds on it, Hu wondered, and plucked off two seeds. At home, he consulted "Cihai" that said cycas seeds are edible.
    "I was surprised that "Cihai" had no information about the taste of cycas seeds," Hu said. "So I decided to try for myself."
    Hu's family warned him that the seeds might be poisonous, but the past three editions of "Cihai," which gets revised every 10 years, all said the seeds were edible.
    About one hour after he swallowed a seed, however, Hu vomited four times before finally getting to sleep in the small hours of the following morning. The experience raised questions over the correctness of the entry in "Cihai."
    He phoned experts on cycas in Beijing, Guangzhou and Shenzhen, and most of them told him to be careful about eating cycas seeds. Li Nan, a cycas expert working for Shenzhen Fairy Lake Botanical Garden, told him the seeds are poisonous.
    Unsatisfied with the simple answers, Hu went to from library to library to look up information and found the seeds contained a lethal substance that could cause cancer and even lead to death.
    "I realized that unawareness of this substance could kill," Hu said, "so I should let more people know."
    Hu then wrote letters to the mayor of Shenzhen as well as leaders of 27 other cities in southern China to advise them to erect warning signs besides cycas.
    Several cities, including Shenzhen, followed his advice and Hu was invited onto a talk show by China Central Television.
    In addition, Hu spotted more than 100 other mistakes in "Cihai," with many of the mistakes being corrected in the latest edition of the dictionary as a direct result of his research.
    Correcting misleading poetic interpretations
    While teaching ancient literature, Hu found sometimes there were multiple, and sometimes confusing, interpretations of certain works, especially ancient poems.
    "I felt it was irresponsible and misleading," Hu said. He then started collecting such inaccurate analysis of ancient poems and compiled five books which contained corrected explanations to more than 2,700 poems of the Tang Dynasty (618-907) and 1,600 lyrics of the Song Dynasty (960-1279).
    The books caused a stir in literary circles after being published in 2001. Many people, including Zhou Ruchang, a renowned scholar of ancient Chinese literature, contacted Hu to express his unease about Hu's analysis.
    "Zhou asked me what my purpose was," Hu said. "People told me I should spend more time on leisure in my old age."
    However, Yu Longyu, a Shenzhen University professor, praised Hu's doggedness, which encouraged the octogenarian to spend the following 10 years on another pamphlet of interpretations of 198 popular ancient poems.
    "I didn't expect it to take such a long time," Hu said. "Diseases, including coronary heart disease and high blood pressure, would consign me to a hospital bed two or three times a year. I worked six or seven hours a day otherwise, and dozens of my dictionaries were worn out due to overuse."
    Hu said he was happy to see that his works have got attention. His heart surgeon in Guangzhou asked for a copy of his book, and after publishing the latest pamphlet at his own expense in January, Hu gave away more than 2,000 of them, worth a total of more than 70,000 yuan (US$10,770), to more than 30 schools and institutions, which used them as textbooks.
    The Secretary-General of China Education Development Foundation Zhang Zhongyuan wrote to Hu last month to express his gratitude. With a pension of about 4,000 yuan a month, Hu's spending on publishing the books was a big sacrifice.
    "I don't consider that," said Hu, "as long as the books can do some good."