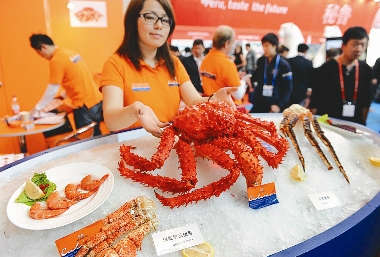 THE 16th China Fisheries and Sea Food Expo was held in Qingdao between Nov.1 and 3, attracting exhibitors from almost 40 countries and regions.
    Covering an exhibition area of more than 40,000 square meters, the expo consisted of three sections, featuring international exhibits, made-in-China exhibits and equipment respectively.
    Sea products, aquaculture technology, and sea product processing equipment were among the exhibits.
    Besides the exhibition, forums, symposiums and a variety of promotion activities were held during the expo.
     China's fishery organizations and domestic provincial and city governments issued a declaration to call for respect for credibility and attention to product quality in the industry.
    Now in its 16th year, the China Fisheries & Seafood Expo is a highly successful, established international exposition. Thousands of pre-qualified buyers and decision makers visited the show to do business. It is by far the biggest and most successful show of its type in Asia. More than 80 percent of exhibitors return year after year because they know it is the best place to showcase their products and services to the most dynamic, promising market in the world.
    The next expo is scheduled to be held in Dalian between Nov. 6 and 8 next year.
(Li Hao, Liu Kunfeng)