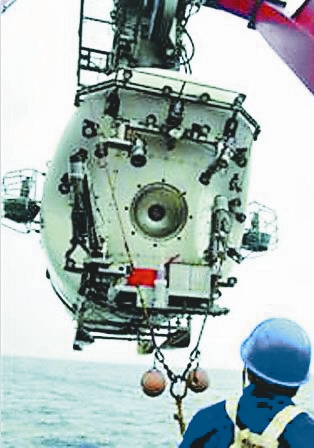 The city plans to promote more academic, business and trading activities in the area and build more ocean research centers, business incubators and professional centers.
    QINGDAO announced its plan to develop its blue economy, aiming at becoming a "blue silicon valley" in China.
    High technology introduced to blue economy
    The "blue economy" includes development of ocean resources and production activities related to the sea. It also includes related service industries. It is closely related to the ocean economy, but it is higher-level, said Li Qun, Party chief of Qingdao, at a blue economy international summit which closed a few days ago.
    As the economy develops, many countries have already made significant efforts in developing the blue economy over recent years and if China wants to catch up with them, high technology should be introduced to make greater achievements, said Tang Qisheng, vice chairman of China Association of Science and Technology.
    The blue economy should explore new ocean areas, such as the ocean bed and pelagic sea, experts said.
    For example, although there are many professionals in ocean areas, the structure is still relatively primitive. In Qingdao, 70 percent are research professionals, so more than 80 percent of ocean technology achievements should be developed in other cities. Meanwhile, many domestic companies do not have access to the best technology, so they can only produce low-end products with small market share.
    The city plans to promote more academic, business and trading activities in the area and build more ocean research centers, business incubators and professional centers.
    City 'born to be' blue silicon valley
    The city has a number of high-level ocean research organizations and human resources, including seven national-level ocean research organizations. It also has one national and 17 provincial key laboratories in ocean science. Other facilities include 22 ocean investigation ships, nine ocean monitoring stations and 10 ocean databases. There are 19 ocean academicians from Chinese Academy of Sciences and Chinese Academy of Engineering and 5,000 professionals in ocean areas.
    In recent years, Qingdao has been part of several national key ocean projects and 50 percent of national ocean creativity awards have been won by the city.
    As an important platform for the ocean economy, the city has also built a modern ocean industrial system, focusing on areas such as ocean biological medicine, ocean equipment, sea water production and ocean materials. It is also the country's model base for biological, ship and ocean equipment, seawater desalination and new material industries.
    At present, there are 19 projects with total investment of more than 70 billion yuan in Dongjiakou harbor areas.
    Industrial parks built for 'blue silicon valley'
    The Qingdao Ocean Science and Technology National Laboratory in Jimo is now the only national laboratory in ocean area. The main building was put into use in August. After the whole project is completed, it will become a base for sharing technological resources and achievements.
    According to the city, the "blue valley" will include Laoshan Technology City and the north part of the Hi-Tech Park in Jiaozhou Bay.
    Construction is progressing steadily, including education institutes, research organizations and professional incubators.
    The city also signed a cooperation agreement with the Qingdao campus of Shandong University and a national deep- sea base will start operation at the end of this year.
    With the high technology platform and research venues, the city's "blue valley" will become a leading base in the ocean industry in China.
(Wang Yuanyuan, Xu Bing, Su Wanming, Pan Linqing)
    Forum on blue economy opens
    A forum on the blue economy was held in Qingdao. The forum discussed issues related to blue economy, technology creativity, environmental protection, and regional cooperation in the ocean industry. (Wang Yuanyuan)