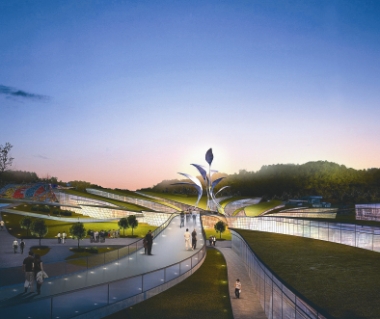 THE International Horticultural Expo will be held in Qingdao in 2014 and preparation is going smoothly at Baiguoshan Forest Park, the main venue of the event.
    According to the schedule, plans for the expo will be finished in December this year, while the construction projects will be finished in October 2013. The projects will go on a trial operation from October 2013 to March 2014. The expo will officially open to the world in April 2014.
    At present, 13 of the 21 construction plans have been drawn and the city has also launched a campaign to select designs for the major buildings.
    Several infrastructure projects are under construction. The Expo Boulevard is expected to start operation at the end of next year, while the 45-km power channels, such as pipes for telecom, water, gas, heat and electricity, have begun construction.
    Other preparations, such as marketing, promotion, volunteer recruitment and security, are also going smoothly.
(Wang Yuanyuan, Zhang Hua)
    City to host a world-class expo
    THE 2014 International Horticultural Expo will be a world-class event.
    The chief planner of the expo is Professor Wu Zhiqiang from Tongji University, who has served as the chief planner for the Shanghai Expo.
    A total of 38 experts from the United States, Japan, Britain, the Netherlands, Germany and Italy will also contribute to the planning.
    All buildings' roofs will be covered with plants and wireless network will be available in the main venue.
    The park also boasts a world-level gardening laboratory area and the world's biggest fountain.
    Meanwhile, a Shandong Park will be built to promote the province and its culture. (Wang Yuanyuan, Qing Bao)
    Expo park to start trial operation in 2013
    THE expo park will start trial operation in October 2013.
    The main venues will include seven zones connected by greenbelts and a river. (Wang Yuanyuan, Qing Bao)
    Water plants to be introduced
    A LARGE number of water plants will be grown ahead of the expo, according to an official from the organizing committee.
    A Chinese pond lily zone has been built in the main venue and it will have the largest variety of pond lilies in the world. "More herbs and lotuses will be introduced to the park in the future," said the official.
    Although the construction of the buildings has not started yet, many plants have already been introduced to the parks.
    There will be more than 20 types of trees and more flowers for the greenbelts in the park. The transplants will be finished by spring next year.
(Wang Yuanyuan, Qing Bao)