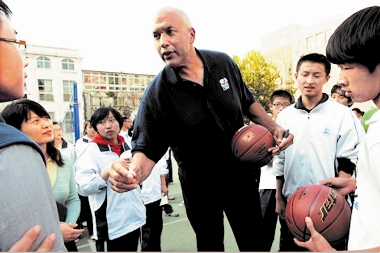 THE former NBA star Denilson James gave a basketball training session to students at Qingdao No. 19 Middle School recently.
    More than 100 excited students attended the training, some of whom later said the 53-year-old was the best basketball coach they had ever had.
    James joined the NBA in 1980 and played for Seattle Supersonics, LA Clippers and New York Knicks. Although he was not as good as Michael Jordan and Karl Malone, he had an 11-point average during his prime. In 1988, he was selected for the NBA All-Star team along with Jordan, Charles Barkley and Malone.
    (Wang Yuanyuan, Zhang Bei)