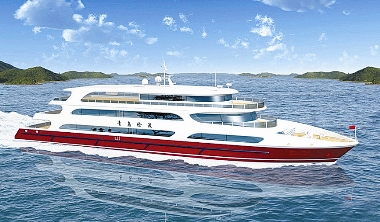 A LUXURIOUS liner with 300 beds will start trial sailing in Qingdao next year.
    The liner, with a total investment of 30 million yuan, will have a 400-square-meter concert hall, a high-end restaurant and a landscape corridor.
    "The liner is 65 meters long and 15 meters wide. It will have a monitoring system and multimedia system and will sail in the near sea area of the city," said an official from Qingdao Chengtou Group.
    (Wang Yuanyuan, Liu Yanqing)