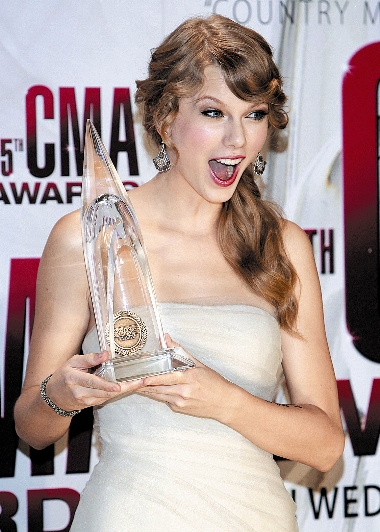 Clockwise from L: Kimberly Perry of The Band Perry; Rascal Flatts; Keith Urban; Blake Shelton; Jason Aldean; Jennifer Nettles and Kristian Bush of Sugarland; Kenny Chesney; Kenny Chesney and Grace Potter perform "You & Tequila"; Lady Antebellum perform "We Owned the Night."
    THOUGH still largely the domain of men, triumphs by Taylor Swift and The Band Perry at the 45th Country Music Association (CMA) Awards show that the young women of country music are finding their voices and shoving the boys out of the way.
    Swift won the CMA's entertainer of the year for the second time Wednesday night, Kimberly Perry of sibling act The Band Perry took home song of the year and two other awards with her brothers, Neil and Reid. Add in wins by Miranda Lambert, Lady Antebellum and Sugarland, and the songwriting strength of today's country girls is undeniable.
    "When Taylor won best entertainer I secretly sang (Beyonce's) 'Who Runs the World? Girls,' to Blake," Lambert said after she and husband Blake Shelton repeated as male and female vocalist of the year. "I'm just really happy that females are starting to be very prominent and it is the female singer-songwriter.
    "It's so cool that Kimberly wrote song of the year by herself. And that's a dream of mine. I'm just so happy the girls were really celebrated tonight."
    Celebrated like rarely before. Swift became the second woman to win entertainer of the year twice, joining Barbara Mandrell, and she did it by the age of 21.
    "To win it twice is like the coolest thing ever happening to me twice," Swift said backstage. "I'm freaking out right now."
    Perry experienced a similar kind of revelation when her song "If I Die Young" conquered country radio then began to crossover on to pop stations. Rarely do country songs resonate across genres, and that the melancholy "If I Die Young" ran hard in the face of the successful formula so many follow made it even more impressive.
    The song earned Perry the song of the year award, which goes to the writer, and The Band Perry, which includes her brothers, single of the year and new artist of the year.
    (SD-Agencies)
2011 CMA Awards nominees, winners
    Entertainer of the year
    Taylor Swift
    Male vocalist
    Blake Shelton
    Female vocalist
    Miranda Lambert
    New artist
    The Band Perry
    Vocal group
    Lady Antebellum
    Vocal duo
    Sugarland
    Single
    "If I Die Young," The Band Perry
    Album
    "My Kinda Party," Jason Aldean
    Song (award goes to songwriter)
    "If I Die Young," performed by The Band Perry
    Musical event
    "Don't You Wanna Stay," Jason Aldean with Kelly Clarkson
    Music video
    "You and Tequila," Kenny Chesney featuring Grace Potter
    Musician
    Mac McAnally