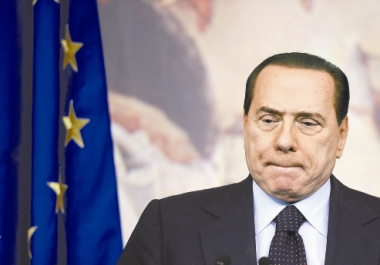 OVER the past century, Italy has had its share of troublesome leaders.
    Silvio Berlusconi, who has been the dominant figure in Italian politics for the past 17 years, is the latest on the list.
    He has been the object of at least 23 judicial investigations, mostly for corruption.
    He has been heard speaking on YouTube, giving sex advice to a prostitute who had a hidden tape recorder under her breakfast napkin after a night of group sex. Prosecutors accuse him of having sex with minors.
    And his offensive and vulgar off-the-cuff wisecracks at international meetings do little to endear him at home or abroad.
    Conflicts within his fractious cabinet over how to deal with the economic crisis have meanwhile brought his government to a standstill, with the result that for months he has been hounded by the opposition, and even by some of his friends, to resign as premier.
    Despite all this, many Italians still defend and love him with quasi-religious fervor. He has been Italy's most prominent politician for almost two decades. He is still the richest man in Italy and, according to Forbes magazine, the 118th wealthiest in the world in 2011.
    To BBC's David Willey, who has covered Italian politics for four decades, Berlusconi, 75, is an ebullient, canny man with energy to burn, who has gone through life "riding on a smile and a shoeshine," to borrow Willy Loman's famous phrase in Arthur Miller's play "Death of a Salesman."
    Unlike the tragic traveling salesman Loman, Berlusconi became one of the world's most successful, if not the most successful, super-salesmen of modern times.
    Born to a middle-class family in Milan, where his father was a bank employee, Berlusconi learned his salesman skills early on.
    At elementary school, as he is wont to remind listeners, he wrote homework assignments for his mates, for which he was paid with their mid-morning snacks.
    In his Catholic high school, he played the double bass and sang with a band, whose drummer was a fellow student named Fedele Confalonieri. During their university years in Milan, the two signed on to cruise ships as musical entertainers, with Berlusconi crooning into a microphone.
    Later, Confalonieri helped Berlusconi set up his first TV studio, built from scratch in Milan. Today the drummer boy is 75 years old, and runs Berlusconi's financial interests. He is president of Berlusconi's media corporation Mediaset SpA, and also conveniently president of the National Television Association (ATN).
    While attending Milan State University, from which he graduated in 1961, Berlusconi upgraded his sales skills with an honors degree in marketing.
    While in his 20s he became an entrepreneur, starting in the construction industry, reportedly beginning with loans arranged through his father. His big coup came when he was able to acquire a vast stretch of empty farmland for a low price because, near the main Milan airport, landing planes flew too low overhead.
    Unexpectedly the landing pattern was changed. The construction of the new suburb called Milano Due began and, with it, Berlusconi's first fortune.
    At the heart of Milano Due was Berlusconi's first TV studio. Such local TV stations were permitted, but a law forbade creation of a national network to rival the trio of state-owned RAI networks.
    In defiance of this monopoly, Berlusconi and his associates set up other local TV broadcasting stations, then dispatched motorcycle riders flying down the motorways to all Italy's main cities, with tapes of his newscasts, which ran consecutively. This became unnecessary when Premier Bettino Craxi shoved a law through Parliament that broke the state monopoly.
    At that point, Berlusconi became a media magnate who owned three networks. Acquisitions of newspapers and magazines followed.
    Through it all, he never gave up crooning, and he is still making CDs with Neapolitan singer Mariano Apicella. The two sing duets at his parties. The newest CD — called "True Love" — is due out Nov. 22, Apicella says.
    Berlusconi entered national politics in the early 1990s with a brand new political party called Forza Italia (Go Italy!).
    Bolstered by unrivalled communication skills and a dominance of Italian media, Berlusconi had for years seemed immune to a series of controversies that would have destroyed a politician in most other parts of the world.
    They included the lurid "Rubygate" scandal in which he was charged with having sex with an under-age prostitute, and included a wave of salacious revelations from police wiretaps about alleged orgies at his luxurious Milan villa.
    He was always unrepentant about a notoriously off-color sense of humor and a series of diplomatic gaffes which have led some foreign leaders to try to avoid being photographed near him.
    However, for most of this year, Berlusconi had been in political decline, his former mastery undermined by glaring misjudgments in local elections and three referendums as well as the loss of a key alliance.
    Berlusconi's final demise was a far cry from 2008 when a landslide victory gave the media tycoon his strongest electoral mandate. He had been prime minister for longer than any post-war leader.
    But he did not have long to savor his third election triumph. In 2009 his estranged wife Veronica denounced his sex life and accused him of consorting with under-age women, finally sowing doubts in the minds of voters who had hitherto been charmed by his image as a self-made macho Latin male.
    In addition, Berlusconi has persistently shown himself to be better at promises than action, failing to implement pledges in 2008 to use his business acumen to liberalize a notoriously inflexible and protected economy.
    He has also shown a dangerously slow appreciation of how his dominance and popularity have declined, continuing to crack inappropriate jokes, making insulting comments in phone calls he must suspect are tapped and underestimating an economic crisis causing real pain.
    He once caused a minor diplomatic incident by suggesting he had seduced Finnish President Tarja Halonen to persuade her to let Italy host a new EU food safety agency. He called U.S. President Barack Obama "sun-tanned."
    Italians are traditionally indulgent of politicians' private lives but Berlusconi's popularity waned as lurid details from leaked wiretaps dominated newspapers, contrasting with his formal espousal of traditional family values.
(SD-Agencies)
    Fast facts
In power
■ 1993: Founds own political party — Forza Italia (Go Italy) — named after an AC Milan chant
■ 1994: Becomes prime minister, forming coalition with National Alliance and Northern League
■ 1996: Loses general election to Romano Prodi
■ 2001: Returns to power in coalition with his former partners
■ 2006: Loses the election, again to Romano Prodi
■ 2008: Wins general election, begins third term as prime minister
In business
■ First foray in business: selling vacuum cleaners
■ Builds reputation as a crooner in nightclubs and on cruise ships
■ Sets up the Edilnord construction company in 1961 near his native Milan
■ Media: owns Mediaset media empire, controls Italy's three biggest private TV stations, its largest publishing house and AC Milan
In numbers
■ At least 51 votes of confidence in his government
■ Three election victories — 1994, 2001 and 2008
■ Two election defeats — 1996 and 2006
■ Four ongoing trials
■ 75 years old
■ US$6.2 billion — net worth of Berlusconi and his family (Forbes, 2011)
(SD-Agencies)