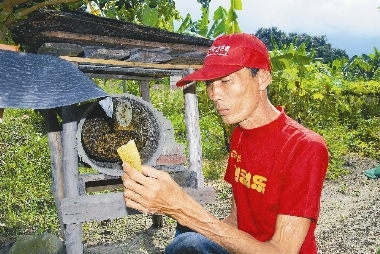 Wang Yuanyuan
    GUO JIANQIANG lost his legs due to infantile paralysis at the age of 3 and has had to crawl around ever since. But the 53-year-old has never given up on himself and has supported his family all his life.
    Living in Bizhou Village in Nan'ao Subdistrict, Longgang District, Guo is known throughout his area as an accomplished beekeeper. He not only supports himself but also takes care of his 80-year-old father.
    "He is a respectable, hardworking man. He is determined to be self-reliant," said Li Zhuangqiang, a villager in Bizhou Village.
    Guo now owns more than 20 beehives and makes more than 5,000 yuan (US$794) a year from beekeeping. He also grows vegetables and makes woven products for his neighbors.
    "Although I cannot make a lot of money, it is enough for me and my father. I just hope to make my own living instead of being supported by the government and neighbors. I enjoy this life very much," Guo said.
    A crawling beekeeper
    "My family was too poor to get me a wheelchair and I found it too inconvenient to use a walking stick, so I always crawled on the ground, using my hands to propel myself," he said.
    Although he always wanted to do something with his hands for a living, he found it impossible to find a job due to his disability.
    "The government gave me a monthly subsidy and neighbors would sometimes give me money, but I did not like living that way," he said.
    Guo started growing some vegetables in the courtyard. "I could not grow a lot because farming work is very time-consuming without legs. I sold the vegetables to neighbors, but the income was not enough to live on," he said.
    When Guo was 30, he heard about some villagers who were raising bees.
    "My father used to be a beekeeper and it did not cost a lot, so I persuaded my father to help me with beekeeping," Guo said.
    His father was very supportive and helped him make several beehives.
    "It was hard in the beginning. To attract more bees, I crawled up to the mountain to catch queen bees. Crawling in the wild woods caused me many injuries, but I was not afraid because I finally found something that I could do," he said.
    Guo now has more than 20 beehives and can make about 5,000 yuan a year. "It is not a big bee farm and not a lot of money, but it is enough for a family like mine," he said.
    For 20 years, Guo has supported the whole family with his little bee farm.
    A hardworking son
    Guo said he would never let himself be idle.
    "Maybe because I am disabled, I like keeping myself busy," he smiled.
    In his spare time, he grew vegetables, made woven products and took care of his father.
    He helps his father eat and shower every day. "My father took care of me his whole life so it is time to repay him," he said.
    In Bizhou Village, Guo has won fame for his woven works. "It is like a part-time job. Many people came to buy my woven things such as cases and baskets. I like making these things. It is relaxing and brings in extra money," he said.
    In 2008, his brother-in-law bought him an electric bicycle for the disabled. "I can ride the bicycle to mend villagers woven things whenever necessary. It also takes less time to go shopping in town," he said.
    However, crawling on the ground was still not easy. "The biggest problem for me is pants. I could not find a pair of durable pants. They would fall apart in only three days," he said.
    Mending his pants was the biggest thing for Guo at night.
    "I had no choice. I did not use walking sticks because they would slow me down," he said.
    But this does not bother Guo. "We don't have a TV, so mending pants is a good way to kill time. I can talk to my father while I'm doing it," he smiled.
    A strong man
    Guo is well liked in the village, where people say he is an example of a real man.
    "His spirit and his kindness are humbling, so it is a pleasure to help him when he needs us," said Li, his fellow villager.
    The Longgang Government also gave Guo 30,000 yuan and a relative donated 100,000 yuan to him last year. With the money, the community office built Guo a new house and paid for his medical and social insurance.
    He and his father also receive 400 yuan in subsidies from the government every month.
    "Life is getting much better," he said.
    However, Guo is not as happy as other people think.
    "I did not want to live with others' supports, becoming a burden to the government and neighbors. I hope I can do more to carry my own weight," he said.
    Guo's biggest hope for now is to buy a new darner, but it would cost more than 1,000 yuan.
    "Some neighbors and staff from the community office are now helping raise money to pay for it. There are so many kind people in the world and I don't know how to thank them, so I want to be stronger and do more to repay them," he said.