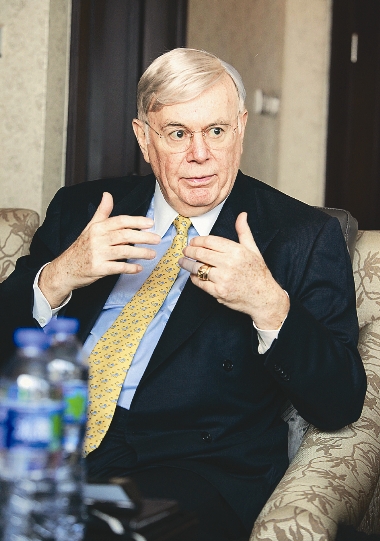 Han Ximin
    AT this year's China Hi-Tech Fair (CHTF), the exhibition area of ComNet sponsored by International Data Group (IDG) was increased to 30,000 square meters and the number of exhibitors also increased to 90, an increase of 30 percent compared with last year.
    "ComNet has grown 10 times in 10 years. This shows the enthusiasm and confidence of exhibitors in China's market," Patrick McGovern, founder and chairman of IDG, said yesterday. He was speaking on the eve of the opening of the CHTF, which he thought had become the world's largest information technology (IT) fair, surpassing similar fairs in Taipei and Hanover in Germany.
    "People are coming to see the latest IT products in the Chinese market where spending on IT products has increased by 16 percent compared with last year," said McGovern.
    Globally, spending on IT products increased by only 4.4 percent. In contrast, China was the only country maintaining the increase in spending in double digits.
    McGovern's IDG Capital Partners managed a fund totaling US$4.4 billion (including 3.5-billion yuan fund in China) and its investments covered a variety of fields.
    "In the past year, IDG's investment in Shenzhen has increased by 25 percent and, at this year's fair, I hope to cooperate with mobile and Internet companies in Shenzhen," said McGovern, who was awarded the title of honorary citizen by the Shenzhen government a decade ago.
    McGovern said that IDG saw a bright future in investment in China's culture industry because it had been held up as a pillar industry for development at the Sixth Plenary Session of the 17th Communist Party of China Central Committee.
    "In the United States, we invested in movie companies, but in China we invested in movie projects. In China, we focus on both content and technological innovation. It may include transforming good Chinese movies into 3D movies," McGovern said.
    He was now particularly interested in bio-technology which could be developed to combat mental disorders such as amnesia and autism.
    IDG and McGovern had committed to donate a seed fund of US$30 million to establish research institutes in Qinghua and Beijing universities. Many Chinese experts were studying at his neurological research institute, which was established 10 years ago, at MIT in the United States.
    "The experts can start business in China in research and development, tests and applications when they finish their studies," said McGovern.
    As a long-term partner of CHTF, he has visited China more than 100 times and Shenzhen 63 times. He believes face-to-face meetings will never become out-dated.
    "The biggest benefit of the fair is that through actual contact, people can have a better mutual understanding and build more trust. At a fair like this one, people can learn about the management teams behind the products. Mutual trust can be strengthened through exchanges," said McGovern.
    In earlier years, McGovern visited China mainly for business. But he now comes more often for family reasons because his daughter has settled in Shanghai and he is expecting his third grandchild.
    "Each time I come to Shenzhen, I am excited about the changes in this extremely dynamic city. If you want to see the future of China, come to Shenzhen." McGovern said.