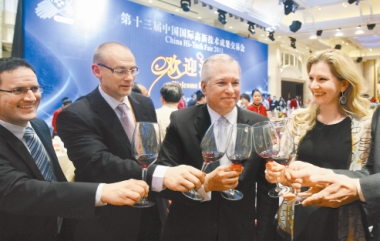 Li Hao
    DELEGATIONS and companies from 19 countries will display state-of-the-art technology and products at the 13th China Hi-Tech Fair (CHTF), which opens today at the Shenzhen Convention and Exhibition Center.
    "Foreign countries, including the United States, Germany and Russia, will bring a large number of innovative projects to seek international cooperation," Shenzhen Mayor Xu Qin told a news conference yesterday. The mayor is also head of the CHTF organizing committee.
    Xu said this year's fair had attracted more professional foreign exhibitors and visitors.
    More than 60 percent of the total electronics exhibition area would be occupied by foreign exhibitors, Xu said.
    "Two CHTF sub-fairs have been successfully held in Israel and Hungary, during which about 30 percent of participating Chinese companies reached cooperative agreements with foreign enterprises," Xu said.
    He said many foreign countries had offered to run overseas sub-fairs.
    This year's CHTF has six parts, including professional exhibitions, forums and a job fair for high-tech professionals.
    The Internet of Things will be a highlight of the fair, which is also known as the wireless sensor network to connect individual devices through sensors.
    In addition, senior officials at ministerial level or above from the countries will have discussions on how to boost international cooperation in innovation and accelerate the transformation of economic development.
    Jim Rogers, a well-known American investor, is due to deliver a keynote speech tomorrow at a summit forum on the capital market.
    Rogers is the co-founder of the Quantum Fund with George Soros and creator of the Rogers International Commodities Index.
    The CHTF was first staged in Shenzhen in 1999 and the annual event has been recognized as the biggest and most influential scientific and technological exhibition in China.
    Last year's CHTF attracted about 525,000 people.