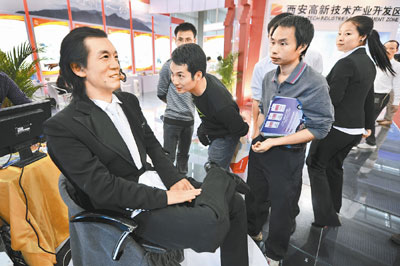 Li Hao
    THE National Web site for the Internet of Things (IOT) opened yesterday at the China Hi-Tech Fair at the Shenzhen Convention and Exhibition Center, which gathered state-of-the-art IOT technology in No. 4 exhibition hall.
    The Web site, www.iotcn.org.cn, is run by the electronic science and technology information research institute, which is affiliated with the Ministry of Industry and Information Technology (MIIT).
    The Web site has nine sections including policies and regulations, technological innovation, application demonstration and industrial development in the IOT industry.
    "The establishment of the Web site is an important step toward building a public service platform for the IOT industry, providing companies with an efficient information service," said Yang Xueshan, MIIT vice minister, at the opening ceremony.
    Yang said the Web site was expected to offer a new channel for communication for the government and IOT companies.
    "Each side should make full use of the Web site to boost the development of the IOT industry," said Yang.
    MIIT has been encouraging fast development of the IOT industry, which aims to establish 10 IOT clusters and foster 100 competent companies.
    During a recent interview, Miao Wei, minister of MIIT, said the IOT was an extension and expansion of the Internet and telecommunications network, which is a high integration and comprehensive application of new information technology.
    Miao called for a sound environment for IOT development and breakthroughs in the research and development of key technologies.
    (Special report on P3)