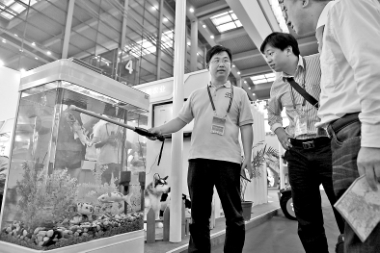 Martin Li
    WHEN visitors to the China Hi-Tech Fair point a terminal and a red fish in a fishbowl, a nearby screen displays detailed information of the fish, including the species, spawning place, weight, features and breeding record.
    "We used a special syringe to inject a microchip into the fish's body, storing information about the fish. The chip is wirelessly connected to an information system to enable real-time monitoring," said a technician from Wuxi Fofia Technology Co. Ltd., which developed the chip.
    The technician said the technology could be used in livestock farming for quality control and management.
    "No matter where an animal is, its origins can be checked immediately with the help of an electronic tag," said the technician.
    The company's electronic identification technology, however, was mainly used by foreign customers.
    "Domestic companies have a poor sense of using technology in quality control," he said.
    Electronic identification was just one of various applications of the Internet of Things (IOT) technology, which is being exhibited at a booth set up by Wuxi City in Jiangsu Province.
    Home to the national IOT innovation demonstration zone, Wuxi has seen robust development of the IOT industry.
    By the end of last year, there were 259 IOT companies in Wuxi running projects worth about 16.2 billion yuan (US$2.57 billion) and applying IOT technology to areas such as transport, health care, logistics and home entertainment.
    More than 150 domestic IOT companies were featuring their achievements in the industry at the fair.