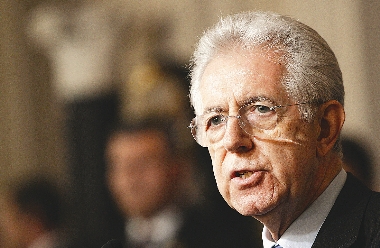 As dubious European bond markets looked on, a former member of the European Commission and well-respected economist, Mario Monti, was sworn in as prime minister and finance minister Wednesday, unveiling a Cabinet of technocrats charged with repairing Italy's ailing economy to help keep the debt crisis at bay.
   "He has experience and, Europe-wide, is one of the most highly esteemed Italian personalities."
    MARIO MONTI replaced Silvio Berlusconi as Italy's prime minister Wednesday and appointed himself finance minister at the head of a technocratic Cabinet that sought to rescue the euro zone heavyweight from bankruptcy.
    The former European commissioner said his new team would "race" to implement "coordinated initiatives for economic growth and development," as he took over from the larger-than-life billionaire media mogul Berlusconi.
    At a ceremony to mark the transition of power, Berlusconi, flashing his trademark smile, handed Monti a bell rung at the start of Cabinet meetings.
    Berlusconi stepped down Saturday following intense market pressure, and his resignation was met by cries of "Buffoon!" and "Mafioso!" as overjoyed Italians partied and danced in the streets of Rome.
    The departing Berlusconi reportedly spent his last day in office packing up gifts — a scimitar from Kazakhstan and a Ming Dynasty vase from China, which the jocular premier had famously pretended to drop to the horror of diplomats.
    Also on Wednesday, Berlusconi's singer friend Mariano Apicella released an album of love songs written by the departing premier.
    "Stay, and leave me your heart," says one poignant lyric. Another says: "I adore you and I already miss you."
     The new government will go to a confidence vote in parliament Thursday which Monti is expected to win handsomely but the political risks could come when he moves to implement painful and long-delayed reforms, experts said.
    As he scrambled to put together his cabinet this week, Monti sought to build consensus around the idea that Italians will have to make "sacrifices."
    He has won endorsements from all of Italy's main political forces but he faces a major challenge in steering a course through a fractious political world, with particularly intense sniping from Berlusconi's allies.
    The softly-spoken Monti has meanwhile garnered support of more than half of Italians according to a poll by IPR Marketing, which said 53 percent favor him — though many right-wing voters are still upset over Berlusconi's exit.
    Despite his 10-year stint in Brussels, Monti has never held office in Italy but has already shown mettle by insisting that his government has to stay in power until 2013 — the scheduled date for the next general election.
    While the new government was widely hailed as a welcome sign that Italy would tackle much-needed economic restructuring, markets were not convinced, raising questions about whether it might have come too late to help.
    Monti will have a weighty double mandate: to help restore growth and prod Europe to find a more comprehensive solution to the debt crisis.
    Chancellor Angela Merkel of Germany and President Nicolas Sarkozy of France both called Monti on Wednesday to express their support, Italian news media reported, and Monti is seen as a more respectable interlocutor than Berlusconi. But Monti must still win the confidence of investors in the face of Italy's US$2.6 trillion debt, the highest in the euro zone after Greece and one of the highest in the world.
    Monti will have his work cut out for him. He is expected to try to cut public spending and lift revenues, change the pension system, reintroduce a property tax on first homes and make it easier for companies to hire and fire workers, to help bolster Italy's anemic economy.
    In sharp contrast to Berlusconi's cabinet, whose clashing vested interests blocked economic reform, Monti's Cabinet draws from academia, banking, business and the upper echelons of the civil service. Some ministers have strong ties to the Roman Catholic Church, whose support is still needed for any Italian government to gain traction.
    However things work out, Monti is widely seen as Italy's best hope. "It could be too late, but there's no other option," said Massimo Giannini, the deputy editor and business editor of the newspaper La Repubblica. "Let's hope for the best."
    Monti is a stark contrast to Berlusconi.
    Where Berlusconi is colorful, controversial and out of favor with the markets, Monti is a well-respected economist, well connected to the upper ranks of the EU machine.
    He is a tough negotiator, head of a university with a reputation for producing Italy's finest thinkers.
    Monti was born in 1943, in the northern Italian town of Varese. He studied economics at Bocconi University in Milan and Yale in the United States.
    At Yale, he studied under James Tobin, inventor of the "Tobin tax," also called the "Robin Hood tax" — a proposal to tax financial transactions to limit speculation.
    He taught economics at the University of Turin for 15 years before returning to Bocconi as rector in 1984.
    In 1994, he was appointed the EU commissioner for the internal market and services. He was nominated by Berlusconi.
    It was in his second term at the commission (1999-2004) that he earned the nickname "Super Mario" for the way he took on vested interests.
    He blocked a merger between General Electric and Honeywell, and battled Germany's powerful regional banks.
    He also launched an anti-trust case against Microsoft for its bundling of audio and video software. In 2004, the EU fined Microsoft 500 million euros (US$672 million at current exchange rates) for what it said was abuse of its dominant market position.
    For Monti's second term in Brussels, he had been nominated by centre-left Italian Prime Minister Massimo D'Alema.
    But by 2004, Berlusconi was back in power. He refused to back Monti from Lombardy for a further stint.
    In 2005, Monti founded the Brussels-based Brueghel think tank, specializing in economic policy. He returned to Bocconi University, this time as president.
    Now aged 68, Monti was recently commissioned by Brussels to write a report on the future of the EU single market.
    "He has experience and, Europe-wide, is one of the most highly esteemed Italian personalities," Gianfranco Fini, speaker of the lower chamber of the Italian parliament, has said of him.
    In 2010, Monti was one of the founders of a European federalist initiative known as the Spinelli Group, which seeks to promote greater EU integration.
    On Nov. 11, 2010, Monti was sworn in as a senator for life in the Italian parliament.
    Monti is married and has two children. He is interested in ancient Egypt, a passion acquired during his time at Turin University. (SD-Agencies)