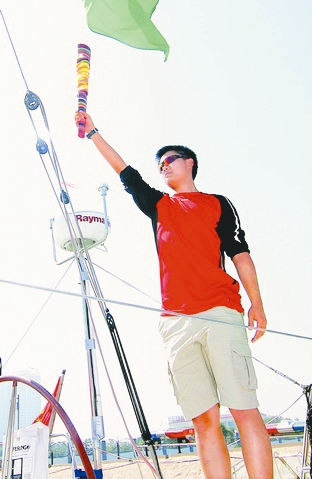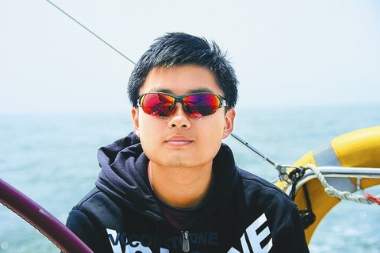 Li Hao
    "SAILING brings one closer to the natural world. It is not about harnessing nature, it is about surviving within it," said Zhang Long, who in September became China's first college student to sail the country's entire coast.
    The 21-year-old from Cambridge University joined the campaign in July, covering 8,000 kilometers in 70 days.
    Zhang describes the experience as priceless and joyful.
    Fearing the sea
    Born in Taizhou in Jiangsu Province, Zhang's parents came to settle in Shenzhen when he was just two months old.
    Despite growing up in the coastal city of Shenzhen, Zhang had a phobia of the sea until he began to sail.
    "Although I could swim, I always swam in a pool," recalled Zhang, who disliked the idea of a long sailing trip.
    Zhang assumed it was exclusively a pastime of the rich.
    His favorite sport was tennis and he had many opportunities to play while he was in high school in Britain.
    He enrolled at Cambridge University last year to study mathematics and became the school's youngest leader in his college's history.
    Exciting summer job
    At the beginning of May, Zhang heard from his mother that a domestic gas enterprise was offering 100,000 yuan (US$16,000) to a selected student to join a team that would sail through seven domestic cities including Tianjin, Dalian and Shenzhen. The goal was to promote a low-carbon lifestyle.
    After a brief consideration, Zhang applied to go on the trip which was dubbed "the coolest summer job."
    "Dying is as natural as living," Zhang said in a June interview when asked whether he was afraid of having a sailing accident.
    He got the job.
    However, Zhang's parents grew reluctant as the start of the trip drew near.
    Zhang's father accompanied him to training on the boat in early June. During the early sessions, they encountered heavy rain and wind.
    The father started worrying about unforeseeable weather during the trip.
    The young man insisted on his decision to challenge himself and eventually persuaded his parents.
    The beginning of the trip
    Zhang started the journey at the beginning of July.
    "The 70-day trip was even more brutal than I was led to expect. It started as a novelty, then a routine, and finally a way of life that I embraced," said Zhang.
    The most unforgettable experience was dealing with storms in the sea off Jiangsu Province.
    At one point, Zhang was seasick and bedridden for 24 hours.
    He had an even worse experience when collecting sea water for pollution testing, a daily activity, a gust of wind hit him and sent half of his body into the sea. Fortunately, a safety belt around his waist, which was connected to the boat, saved him.
    Zhang has still not recovered from the injuries he sustained.
    The experience changed Zhang's attitude toward life.
    "Once, I saw a dragonfly perching on a mast on our boat when I was taking pictures. At that moment, I realized that no matter whether it was a dragonfly, a fish or a person, it was one of nature's creatures," said Zhang.
    "Humans overestimate their place on the earth," he said.
    Zhang was saddened by the sight of domestic garbage on the sea surface at Baohai Bay.
    "This experience has taught me about teamwork and the beauty of nature," said Zhang.
    Sailing to continue
    Zhang's 70-day journey concluded in Shenzhen on Sept. 3, but his love of sailing has not dwindled.
    He studies sailing skills and marine knowledge in his spare time.
    Zhang has donated 40,000 of his 100,000-yuan award to a fund to help disadvantaged students at Beijing Normal University.
    He plans to put the rest of the money into his new hobby: sailing.
    He plans to take part in the sailing society of Cambridge University with other enthusiasts.
    "A sailing boat is mainly driven by wind, which is environmentally-friendly. Dealing with wind and rain during teach one courage and responsibility," said Zhang.
    "I and my friends will set up a sailing team composed of college students and make another journey around China," he said.