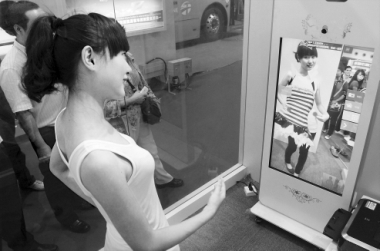 Wang Yuanyuan
    MANY women were attracted to a "magic mirror" displayed at the China Hi-Tech Fair. The intellectual system helps them try on clothes without the trouble of changing.
    The interactive dressing mirror could fit the clothes on a potential buyer and could also compare styles and choose the most suitable clothes and accessories, a staff member surnamed Wu from the Shenzhen Koscar Interactive Co. Ltd. said yesterday.
    "It was so convenient to have that at home because I did not have to change 100 clothes to see which would be better for me. When I am tired at night, I can just go to the mirror to see what I should wear the next day. It can do my hair style, too," said a woman, Sun Limei.
    The system could first be promoted to clothing retailers, Wu said. "Customers don't have to wait for a fitting room and can just simply use the mirror to try on clothes," Wu said.
    The company would also collaborate with an online shopping Web site in the future. "This is a big market for us. Customers can try on the clothes on the Web site to see whether they suit and they can order on the mirror. Many women were buying clothes online now, but they still worry because they don't have a chance to try them on before buying," Wu said.