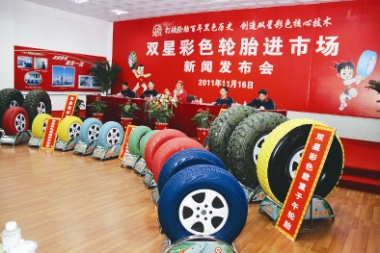 DOUBLE Stars Dongfeng Tire Co. Ltd. produced the world's first batch of colored tires in Hubei Province recently. With the new technology, consumers will be able to order tires in any color. Experts said the Double Stars colored tire was a new development in the industry.
    "The company has explored a series of new technology to improve tire technique and quality. The latest colored tire represents a new achievement," said Wang Mei, president of the Qingdao Double Stars Group.
    The company has spent two years developing the product. It is currently applying to patent the core technology.
    The tire can be used on several types of surface and several types of car. It also successfully developed new colored radial tire.
(Wang Yuanyuan, Lin Gang)