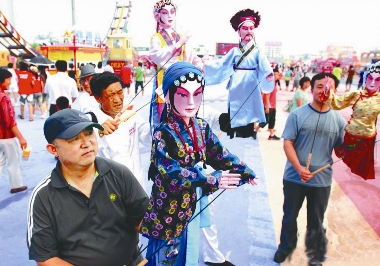 LAIXI has been hosting puppet shows for more than 2,000 years. In 1978, a large puppet and several smaller ones were found in an ancient tomb in the district. The puppets were promptly named the "originators of the country's puppet art."
    Ni Fengxian is the fourth head of the Laixi puppet show and he has promoted the art to a new level introducing new styles and concepts.
    Ni, 73, started learning puppetry from his grandfather's apprentices Li De'an and Li Dehu when he was 14. At that time, the village wanted to set up a puppet art troupe with 2,000 yuan invested by the Laixi government, so the two apprentices took on 10 students and Ni was one of them. The Laixi Cultural Relics Research Center in 2006 invited Ni to promote the art to the world and his puppets and skills have gained the status of intangible cultural heritage.
    In July 2008, the Laixi puppet art troupe made its debut in Pichai Theater and had great success. They have held several performances this year, including a puppet show "Snow White," attracting a large number of children. Ni and Jiang Yutao hoped to introduce more elements into the traditional puppet shows, such as music, singing, dancing and even face-changing skills from Sichuan opera.
    Ni went to Yangzhou, Jiangsu Province, in April this year to assess the puppet industry and create a new method to make puppets with his apprentice Zhang Wenxian.
    Zhang, 47, is Ni's oldest apprentice. He has been studying singing and puppet making since about the age of 20 and performs puppetry in a hotel on Minjiang Road every night.
    Ni's biggest hope is to pass on his skills and knowledge to all of his apprentices, letting more people in Qingdao enjoy the traditional art. (Wang Yuanyuan, Qing Bao)