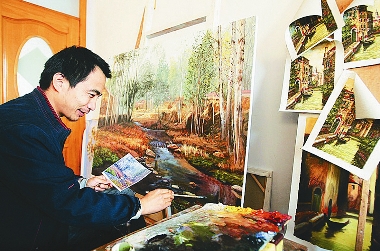 WANG DELI, 42, is working on a painting about Venice where he has never been to at his studio in Jiaonan. In five days, his painting will be sold at an art gallery in Italy.
    At present, there are more than 10 studios in Danigoutou Village in Zhangjialou Township, Jiaonan, with more than 1,000 painters like Wang. The small village is also called the first painter's village to the north of the river.
    Although his paintings are now sold in Italy, France, and the United States, Wang was a miner seven years ago. In 2003, he heard Qingdao was going to build a painter's village, the art lover came to settle down at the Luze Art Studio.
    When he first arrived at Luze, he could only help the other painters with some preparation work, but now he can paint his own paintings besides imitating classics. "I never thought that my paintings would be sold abroad. It was a dream come true," said Wang.
    A lot of painters in the village have had similar experiences, including the founder of Luze studio, Jie Zhongcai.
    Jie was born into a poor family and had no chance of receiving professional training. The former street painter is now the head of a large art studio which sells paintings worth more than US$3 million a year to Europe and the United States.
    "I have worked as a stevedore and shepherd, but I have never given up my passion," Jie said. Jie opened Luze in 1997. At present, there are more than 700 painters in Luze and the studio has also attracted other painters to open their studios. The village has become as famous as Dafen Village in Shenzhen.
    (Wang Yuanyuan, Qing Bao)