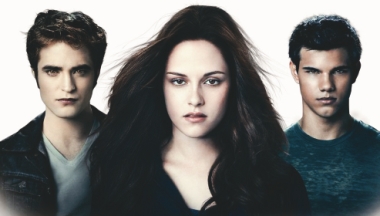 As "Twilight" fans gear up for the emotional rollercoaster of weddings, babies and battles that is "Breaking Dawn — Part 1," the movie's three stars are beginning to look to new horizons.
    "The Twilight Saga: Breaking Dawn — Part 1," opening in U.S. theaters on Friday, sees young lovers Bella Swan (Kristen Stewart) and vampire Edward Cullen (Robert Pattinson) finally marry in a wedding that has the "Twilight" fan-verse in a frenzy.
    But wedded bliss doesn't last long for the young couple after Bella finds herself pregnant with a vampire baby that is slowly killing her. Back home, werewolf Jacob Black, played by Taylor Lautner, faces conflict within his own tribe as he chooses to protect Bella and her unborn child.
    The "Twilight" movie series will eventually end when "Breaking Dawn — Part 2" reaches theaters in the summer of 2012. But with filming already wrapped up, Pattinson, Stewart and Lautner are already emotional about the end of the saga that turned them into worldwide stars and good friends.
    "I'll never have anything like that again in any other aspect of moviemaking," said Stewart, 21.
    Lautner, 19, said the trio had become very close since making the first "Twilight" movie, released in 2008.
    But the young stars already have begun to move on. Lautner took a turn as an action hero in "Abduction" earlier this year, and he stars in the movie version of upcoming young adult sci-fi novel "Incarceron."
    Stewart, in 2010, played rock singer Joan Jett in "The Runaways." She will next be seen in the classic beat generation drama "On the Road," and in the lead role for 2012 fantasy "Snow White and the Huntsman."
    Pattinson, 25, branched out in circus romance "Water for Elephants" earlier this year and has two other movies under his belt — "Bel Ami" and "Cosmopolis."(SD-Agencies)