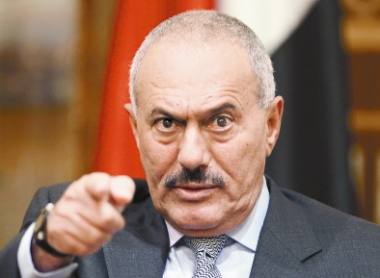 Yemen President Ali Abdullah Saleh agreed Wednesday to step down after months of demonstrations against his 33-year rule. He is the fourth leader to lose power in the wave of Arab Spring uprisings this year, following longtime dictators in Tunisia, Egypt and Libya.
    YEMEN President Ali Abdullah Saleh, who resigned as president Wednesday after almost 10 months of bloody protests calling for him to quit, has ruled through three decades of Middle East turmoil.
    Saleh, a stocky 69-year-old with piercing eyes and a moustache, has lived through civil war, rebellion in the north, an Al-Qaeda insurgency in the south and a bomb attack on his palace in June that badly wounded him, only returning home after three months of treatment in Saudi Arabia.
    The Wednesday deal will see him leave office in 30 days, making way for Vice President Abdrabuh Mansur Hadi to negotiate a power transfer with the opposition in return for a promise of immunity from prosecution.
    Born in 1942 in Bayt al-Ahmar to the powerful al-Hashid tribe, Saleh never finished elementary school. He joined the army of the former Kingdom of Yemen at 16.
    He took part in the 1962 coup that replaced the Zaidi imamate with an Arab nationalist republic. At 21, he was commissioned a second lieutenant in the army of North Yemen.
    After Saleh joined the army, his leadership skills were quickly noticed and he climbed the ladder of power in short order.
    Following the June 1978 assassination of President Ahmad al-Ghashmi, Saleh was elected president of North Yemen by a constituent assembly.
    He immediately surrounded himself with close aides, notably his brothers, whom he named to key military and security posts.
    His son Ahmed commands the Republic Guard, which has been engaged in fierce fighting with opposition forces backed by dissident tribal chief Sheikh Sadiq al-Ahmar.
    In 1990, he successfully steered the country to reunification with the south.
    He has since survived a succession of crises, including Saddam Hussein's invasion of Kuwait in 1990 after which Saudi Arabia punished its southern neighbor for siding with Iraq.
    Riyadh expelled 700,000 Yemeni expatriate workers, depriving their poor country of remittances that constituted one of its main revenue sources.
    In 1994, the south launched a secession bid, sparking a short-lived civil war. Saleh crushed the uprising, sealing the country's reunification under his unbridled leadership.
    The south, where many residents complain of discrimination by Saleh's regime in the distribution of resources, is still the site of frequent secessionist protests.
    Since 2004, Saleh also faced a sporadic rebellion in the northern mountains by members of the Zaidi Shiite minority, a community to which he himself belongs.
    The conflict escalated in August 2009 before a fragile truce came into force in February 2010.
    Saleh has also had to contend with an insurgency by Al-Qaeda's local franchise and has come under enormous international pressure to crack down on the group's militants.
    His rule relied on the army and his General People's Congress, an amalgam of civil servants and local notables, as well as a careful balancing act among rival tribes that still form the backbone of Yemeni society.
    His ability to juggle so many different groups for so long in a country as complex as Yemen shows what a master tactician he is.
    Following Yemen's unification, Saleh launched a cautious process of reform, introducing a multi-party system.
    He also gave the press a margin of freedom, but in the mainly illiterate society his tight grip on the state broadcast media long allowed him to keep control of Yemenis' access to information.
    He organized parliamentary elections in 1993, 1997 and 2003.
    And he won his last seven-year term in September 2006 with 77 percent of the vote, once more outliving his own experiment in democratization amid widespread charges of fraud.
    Then came the Arab Spring.
    Inspired by protests in Tunisia that forced the country's president, Zine al-Abidine Ben Ali, to relinquish power after 23 years, demonstrations spread across the Middle East and North Africa, eventually toppling the regimes of Egyptian President Hosni Mubarak and Libyan leader Moammar Gadhafi.
    The protests spread to Yemen, too, with small demonstrations in January growing larger as the weeks went on. They culminated in mass protests calling for Saleh's resignation despite his promises first to reform the constitution and later assurances that he would step down in 2013 and would not try to transfer power to his son.
    The protests continued into spring and summer, spreading across the country and often resulting in violent clashes with security forces. Hundreds of protesters died in brutal crackdowns that attracted worldwide attention.
    Saleh had said since May that he would sign the agreement brokered by the Gulf Cooperation Council that calls for him to step down in exchange for immunity, but he repeatedly balked.
    In June, Saleh's rule seemed to be at an end when he was injured in an assassination attempt at his palace mosque. He traveled to Saudi Arabia to seek medical treatment, leading some to speculate his regime was over.
    But in September, to the surprise of many, he returned to take back the reins of power.
    On Wednesday, as he has before, he appeared to reverse course, telling the television station France 24 that he had no more desire to stay in power.
    "Whoever hangs onto power I think is crazy," he told the station.
    (SD-Agencies)
    TimelineBelow is a timeline of events since protests began against Ali Abdullah Saleh in 2011.
    ■ Jan. 29 — Yemen's ruling party calls for dialogue with the opposition. Saleh supporters attack Yemenis trying to march in solidarity with Egyptian anti-government demonstrators.
    ■ Feb. 3 — A day of anti-government protests brings more than 20,000 people onto the streets in Sanaa.
    ■ March 2 — The opposition presents Saleh with a plan for a transition of power. Saleh says he will draw up a new constitution. The opposition rejects the proposal.
    ■ March 18 — Snipers kill 52 protesters at Sanaa University. Saleh declares a state of emergency.
    ■ March 20 — Saleh dismisses his government.
    ■ March 21 — Senior army commanders, including Saleh ally General Ali Mohsen, commander of the northwest military zone, say they have switched support to pro-democracy activists.
    ■ April 23 — Saleh agrees to step down in weeks in return for immunity from prosecution. The opposition agrees to the plan.
    ■ April 30 — Saleh refuses to sign in his capacity as president.
    ■ May 21 — The opposition signs the transition deal.
    ■ May 22 — Five members of the ruling party sign the deal, but Gulf Arab states suspend it after Saleh asks for additional conditions and diplomats fail to persuade him to sign it.
    ■ June 3 — A bomb explodes at Saleh's palace in Sanaa, wounding the president. Saleh leaves for treatment in Riyadh.
    ■ Sept. 23 — Saleh returns from Saudi Arabia, greeted by gunfire and explosions.
    ■ Sept. 24 — At least 17 people are killed in continuing fighting.
    ■ Oct. 25 — A cease fire deal between the government and Ali Mohsen is agreed however residents report sporadic fighting.
    ■ Nov. 23 — Saleh signs a deal brokered by Gulf states in Saudi Arabia. SD-Agencie