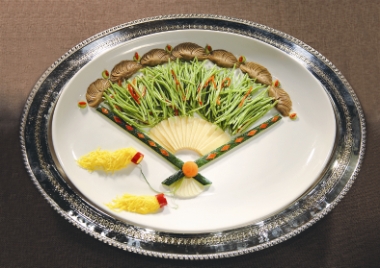 SHANG Garden Chinese restaurant in the Futian Shangri-La, Shenzhen brings the Chinese literary classic, "A Dream of Red Mansions," to life with its Red Mansions Banquet from Dec. 7 to Feb. 5, 2012.
      The restaurant presents guests with a rare opportunity to experience a private banquet featuring an elaborate menu of 36 dishes served in the aristocratic ambience of a Qing Dynasty (1644-1911) mansion as described in the novel.
      The Red Mansions Banquet presents 36 dishes and opens with a set of three "Grand View Garden" dishes that features an elaborately sculptured garden landscape, peacock and butterflies. These decorative showpieces are monuments to the artistic skills of the chefs. Following this, guests can enjoy tea and chat over a series of appetizers.
      The main dishes are based on the cuisine of the two families that are central to "A Dream of Red Mansions." Each of the dishes symbolizes an allusion to the writer or a passage in the novel. For example, plum blossoms amidst the white snow is a dish described in chapter 49 of the novel. The chefs of Shang Garden stir-fry shredded pigeon with julienned celery and gently braised pink shrimp that resemble the shape of flowers, which are placed on a dish with pure white meringue to resemble a scenic landscape of flowers against a backdrop of snow.
      Chef Dong of Shang Garden specializes in Huaiyang cuisine and has over 20 years of experience. Through extensive research on dishes described in "A Dream of Red Mansions," he has designed a feast that is a culmination of both his expertise in this field, as well as his profound understanding of the literary masterpiece.
      A private dining room bedecked in the Qing Dynasty style is exclusively reserved to host the Red Mansions Banquet. Traditional screens, ornate gold-hued tableware, carved wooden furniture and framed paintings of plum blossoms and chrysanthemums form part of the decoration. Guests can don the traditional costumes and pose in the Red Mansion Hall to take photographs.
      The Red Mansions Banquet is suitable for eight to 10 persons and it is priced at 8,888 yuan plus a 15 percent service charge. Due to the long hours of preparation and intricate presentation involved in each dish, the Red Mansions Banquet is limited to only one booking per table of eight to 10 persons each evening. Two days' advanced reservation is required.
      Venue: Shang Garden, Futian Shangri-La, Shenzhen, 4088 Yitian Road, Futian District
      Tel: 2151-3835
      Metro: Shopping Park Station (购物公园站), Exit D (Maggie Tang)