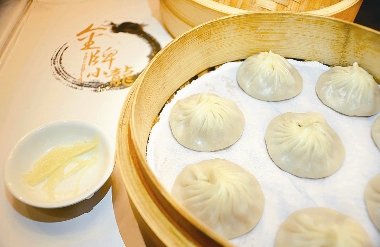 Tang Li
    KING'S Dumpling, a Taiwanese restaurant with four branches in Shenzhen, offers a crossover of Taiwan and Shanghai cuisine with fine food and friendly service at affordable prices.
    The restaurant features plump dumplings and Taiwan-style dishes. It is suitable for family dining, casual get-togethers and afternoon tea.
    The signature dish is King's Dumplings, the delicate soup dumplings that come in groups of seven. The wrapper, thin and semi-translucent, easily holds the pork filling as well as the steaming soup within, all trapped inside the thinnest of wrappers. When consumed (careful, it's hot!) the "soup" within is meaty and tasty. The soup-filled dumpling is taken with an extra dip of black vinegar to make the simple taste of an iconic Chinese cuisine.
    Another popular dish is the Taiwan-style marinated pork mince on rice that is served in a bowl slightly bigger than a typical Chinese rice bowl. The ingredients are simple — a bowl of normal Japanese rice topped with marinated minced pork, Chinese pickled turnip and boiled egg then drained with a satisfying sauce — but make an extremely tasty dish. The pork belly itself is slightly sweeter than antcipated. The smooth skin takes on a brownish-burgundy color while the alternating layers of half-molten fat and tender pork are scrumptious and richly satisfying from the texture to the taste.
    Other signature dishes include the Taiwan-style beef noodle soup, steamed dumpling with a variety of fillings — especially recommended is the hairy crab meat dumpling promoted by the end of this month, Taiwan-style chicken cooked with three cups of sauce, chicken soup, and sweet glutinous rice pudding.
    Add: 4/F, CITIC City Plaza, Futian District
    Tel: 2598-8086
    Metro: Grand Theater Station (大剧院站), Exit B