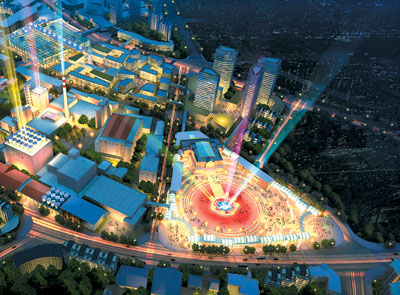 QINGDAO has laid out a detailed plan to improve its public cultural services and boost the development of the cultural industry over the next five years.
The city aims to step up the construction of public facilities such as cultural centers and science museums.
The city government will subsidize professional art troupes' performances in schools, residential communities and seniors' homes. The number of such performances is expected to reach 600 each year, according to the plan.
In addition, the city will encourage public cultural institutions to provide free training to the children of low-income migrant workers. Free books, newspapers and film tickets will be given to low-income residents on a regular basis.
To strengthen its cultural industry, the city will develop six clusters involving media, exposition, leisure tourism, art production and creative animation.
The city aspires to bring the added-value of its cultural industry to 100 billion yuan in the next five years, contributing to 10 percent of Qingdao's GDP.
Preferential support will be given to 10 leading cultural enterprises and 100 key cultural enterprises.
The city will accelerate the construction of national cultural industrial parks and key projects such as China Movie Trading Center.
Besides, exports of cultural products and services such as musical instruments and art will be increased.
International exchange and cooperation in the cultural field will be advanced to raise the city's profile.
The city will continue playing host to a series of signature events such as Qingdao International Beer Festival and China Qingdao International Ocean Festival. Meanwhile, the city will seek to host other national cultural events such as China International Dance Festival.
Eventually, Qingdao hopes to gain the UNESCO titles "Capital of Music" and "Capital of Film."
The city government will ensure continual fiscal input into the cultural construction in the next five years and actively foster and introduce professionals in the cultural field.
(Li Hao, Yu Feng)