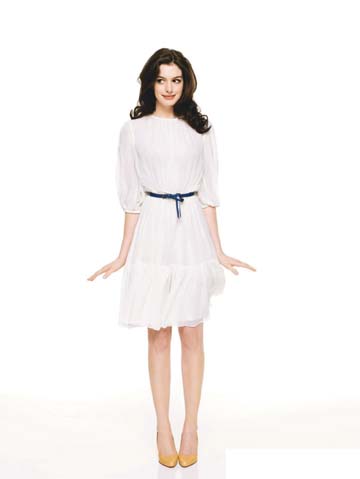 Anne Hathaway has signed to play a new role: fiance.
A spokesman for the 29-year-old actress says Hathaway is engaged to boyfriend and fellow actor Adam Shulman.
The couple started dating in 2008 following Hathaway's split from Raffaello Follieri, after he pled guilty to 14 counts of money laundering, conspiracy and wire fraud and Hathaway recently revealed Shulman "ruined" her plan of staying single.
She explained: "We hit if off immediately but it took us a pretty long time to get together. I am very much in love with him, Adam totally ruined my plan. I was really, actually looking forward to a little alone time, and then I fell in love like a fool!"
Hathaway — who had previously been against the idea of getting married — revealed she changed her mind about the institution after witnessing her best friend walk down the aisle.
Hathaway is among the stars of the anticipated Batman movie "The Dark Knight Rises." She was nominated for an Academy Award for 2008's "Rachel Getting Married" and hosted the 2011 Oscars with James Franco.
Hathaway's other credits include "The Devil Wears Prada" and "Get Smart."(SD-Agencies)