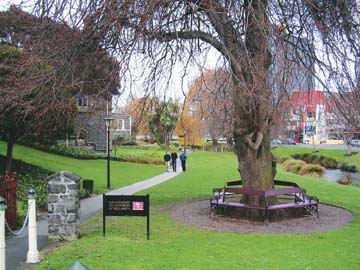 Jack (戴云起)
College is great. Professors are less pushy than high school teachers. Students have a lot more free time. They are responsible for themselves.
Students can choose to study in the library, or simply spend their time on Facebook; they can choose to read in their room, or throw wild, boozy parties as my roommate frequently does. This autonomy is both frightening and impressive.
When I come to a new place, the quality of the food is the most important thing. Colleges are usually surrounded by great restaurants.
Around my college, there are four Chinese restaurants, one Indian restaurant, three pizza shops that stay open till 2 a.m., three breakfast shops and six Western-style restaurants.
More attractively, there is a huge food market where I can buy cooking materials right next to my dorm. I cook at weekends. Overall, I eat very well.
In China, high school teachers walk into students' dorms and say: "Lights out!" or "Clean your room!" This never happens in college. There are no rules about cleanliness, no schedule is enforced, and Internet access is unlimited.
No one yells at my roommate for never coming home before 3 a.m. No one is able to go into your room and check if you have hidden alcohol or if your room is tidy. You have a genuine private space, perhaps for the first time in your life.