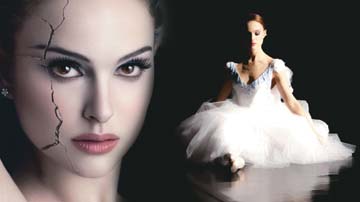 Carrie (王佳薇)
Although it was released last year, I still cannot forget the film "Black Swan." I felt a particular connection to the main character, Nina Sayers.
The story is about a virginal girl, pure and sweet, trapped in the body of a swan. She desires freedom but only true love can break the spell. Her wish is nearly granted in the form of a prince, but before he can declare his love, her lustful twin, the black swan, tricks and seduces him. Devastated, the white swan commits suicide and, in death, finds freedom.
I too dreamed of becoming the Swan Queen when I was cast in the leading role in a Chinese dance. I felt the same pressure to be perfect. However, in "Black Swan," achieving excellence leads to death.
I will never get up to that level as a dancer. I do not have the talent, and I fear the side-effects of being successful. I did, however, feel as if I must be the Swan Queen in other aspects of my life.
I joined the ranks of those constantly seeking the best grades and the most activities.
I once had a picture of Sayers on my desk as a constant reminder of my goals. She became my role model rather than my warning of the impending pressures.
People told me to slow down; however, I ignored their warnings as I believed that success was only attainable through drive and perfection. As a result of seeking that which is unattainable, I found myself avoiding what I needed to do. I felt stuck. I began to feel like a prisoner of my own excuses. However, I was both the guard and the only prisoner. I needed to move on with my life, not spend precious time striving for impossible perfection. I needed to accomplish what I could with the tools I had. I needed to become more realistic about my activities, my goals and my studies.
Sayers gave a perfect performance, but then she died. I did not make this connection until I watched the movie several times. I did not need to be such a tragic figure. The most important thing that I learned is that life is not just about achieving what you want. It entails embracing everything that this world has to offer.