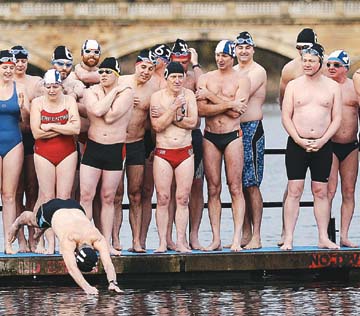 WINTER swimming requires great physical fitness and is not for the faint-hearted.
It is typically done in outdoor locations. In some countries, winter swimming involves swimming in frozen-over rivers and lakes. Swimmers need to break the ice before getting in.
Winter swimming is a tradition in a number of cold countries, including Russia, Germany, United Kingdom, Finland, Sweden and Denmark.
Famous locations in the United Kingdom include the Serpentine Lake in Hyde Park, London. Races take place regularly including on Christmas Day and New Year's Day.
In Harbin, China, the ice water of Songhua River attracts winter swimming enthusiasts.
Russia has a strong tradition of ice swimming and dousing swimmers with cold water. Those who engage in this activity are called "walruses."
(SD-Agencies)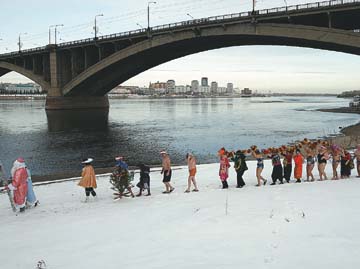 Swimmers at the "Peter Pan" Winter Swimming Race in Hyde Park, London on Sunday.
A swimmer plays the violin at the start of the traditional Christmas swim in the Vltava river, Monday, in Prague.
Members of Berlin's swimming club "Berliner Seehunde" (Berlin seals) in Orankesee lake in Berlin on Monday.