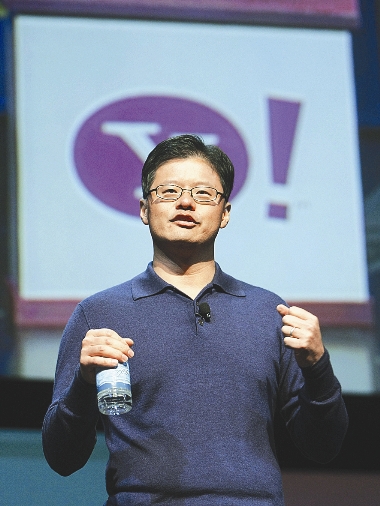 Yahoo has announced the resignation of Jerry Yang from its board of directors and all other positions he held at Yahoo. Additionally, Yang also resigned from the boards of Yahoo Japan and Alibaba Group.
    JERRY YANG built Yahoo into an online colossus but the co-founder of the Internet pioneer has become a lightning rod for investor criticism of the recent management of the company.
    In a statement Tuesday, Roy Bostock, Yahoo's chairman, said Yang would immediately give up his board seat at Yahoo and step down from the boards of the Alibaba Group and Yahoo Japan.
    Yahoo shares rose more than 3.5 percent to US$15.99 in after-hours trading following Tuesday's announcement.
    The move was largely unexpected, especially as Yang was viewed as spearheading the campaign for Yahoo to continue to operate as a stand-alone entity. Yet after 17 years since founding the company, the move was abrupt and surprising — opening up a few scenarios.
     "The resignation of Jerry Yang from not only the Yahoo board, but also Yahoo Japan and Alibaba, raises a few scenarios, but we believe the path for a potential transaction has increased slightly," Susquehanna Financial analyst Herman Leung wrote in a note to clients.
    Yang might not be gone for long. After all, his resignation could potentially mean more flexibility as an independent unrelated party. His involvement might have been a deterring factor for some investors or strategic partners and potentially be a condition for a pending transaction.
    One has to ponder why Yang resigned from all three boards, and it is tough not to wonder if Yang would/could partner up with private equity firms to launch a bid to buy out the entire Yahoo. Yang still owns 46.6 million shares, or 3.8 percent of the company's outstanding stock, according to a regulatory filing in late November 2011.
    "We have always thought Yang fought hard to keep Yahoo and that option could now be a reality now that he has cut off affiliation with the company," said Leung, who has a "neutral" rating on Yahoo shares.
    Yahoo has been facing mounting challenges as it lost its search engine market share to Google, Inc., which search share has been steady at 65 percent, while Yahoo's share has been about 15 percent. ComScore said Google Web sites accounted for 66.1 percent of total core search queries conducted in last December, followed by Yahoo Web sites with 16.2 percent and Microsoft Web sites with 13.8 percent.
    Yahoo's U.S. display ad impressions fell to 10.2 percent in June, and time spent by users on its site increased just 1.6 percent for the 12 months ended July 2011, according to comScore. On the other hand, Facebook's ad impressions rose to 32.4 percent in June 2011 and time spent by users on its site jumped 58 percent.
    Amid the stiff competition from Google and Facebook and as part of turnaround strategy, the company laid off hundreds of workers, closed or sold several of its less popular services. Yahoo has also been selling stakes to raise billions of dollars, with which it could use to buy a good startup to boost its results.
    In last September 2011, Yahoo fired Carol Bartz and recently named PayPal executive Scott Thompson as her successor. Even Thompson's appointment was also questioned due to his lack of experience in media and content.     
    Born in Taiwan on Nov. 6, 1968, Yang moved to the United States with his family when he was around 10 years old and was raised in San Jose, California.
    While studying electrical engineering at Stanford University in California, Yang and a classmate, David Filo, created a directory for Web sites in their spare time called "Jerry's Guide to the World Wide Web."
    They founded Internet portal Yahoo in 1995 and Yang became one of the original Silicon Valley dotcom billionaires the following year when the Sunnyvale, California-based company went public.
    Yahoo survived the bursting of the dotcom bubble five years later and despite its recent struggles has remained one of the most popular sites on the Web, drawing millions of users a day as a gateway to the Internet.
    However, despite its strong content and popular Web sites, Yahoo has been losing online advertising business to search giant Google, social networking king Facebook and specialized Web sites.
    Yang served as chief executive of Yahoo from June 2007 to January 2009, during which time he notably turned down a US$33-a-share offer by Microsoft for Yahoo worth a total of more than US$47 billion.
    The rejection of the Microsoft bid earned Yang the ire of many shareholders and accusations that he was putting his personal affection for the company he created over the interests of investors.
    According to Forbes magazine, Yang is the 938th richest person in the world with a fortune estimated at US$1.1 billion.    
    In a letter to Bostock, Yang said "my time at Yahoo, from its founding to the present, has encompassed some of the most exciting and rewarding experiences of my life. However, the time has come for me to pursue other interests outside of Yahoo."
    Bostock described Yang as a "visionary and a pioneer, who has contributed enormously to Yahoo during his many years of service.
    "He has always remained focused on the best interests of Yahoo's stakeholders, including shareholders, employees and more than 700 million users," he said.
    "And while I and the entire board respect his decision, we will miss his remarkable perspective, vision and wise counsel," Bostock said.
    Scott Thompson said Yang "leaves behind a legacy of innovation and customer focus for this iconic brand."(SD-Agencies)