Li Hao
    HE used to be a millionaire.
    Setbacks deprived him of his fortunes and sent him to the lowest ebb of his life.
    But he regained confidence thanks to the help of others and became a happy volunteer in Shenzhen, dedicated to helping poor children and other less-fortunate people.
    He is Gao Wei, a bus driver at the city's Eastern Bus Company.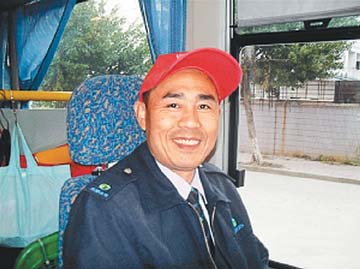 Fortunes to debts
    Born into an ordinary family in Huaiyang County in Henan Province, Gao Wei left for Beijing at the age of 20 to seek personal development, a common practice among young people in China's rural areas.
    "I sold vegetables, did errands and even cleaned sewage," Gao recalled.
    Seven years later, Gao became the exclusive authorized dealer of a large, State-owned food enterprise in Beijing. He raised 170,000 yuan (US$27,000) to build a freezer and sold frozen chicken in a produce market.
    Thanks to then-robust demand, Gao garnered fortunes worth more than 1 million yuan within four years.
    But Gao's luck didn't continue. The relocation of the produce market in 2002 put an end to Gao's profitable chicken business. Then, Gao failed in his mushroom and clothes businesses.
    He spent all his money on an iron mine in 2004. After a mine accident and government restrictions on the development of small and medium-sized mines, he fell into a debt of more than 300,000 yuan.
    "I lived on instant noodles and considered suicide many times," Gao said, describing his despair.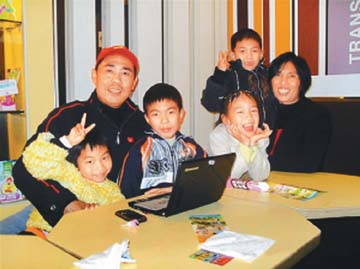 Confidence regained
    "I had no courage to start again at that time," Gao said.
    He got to know a friend on the Internet who offered him money and kept encouraging him to regain confidence in life. With help from this friend, Gao went to Dongguan to work as a security guard in 2005, before coming to Shenzhen.
    But having no skills, Gao found it extremely hard to find a job in Shenzhen. He often lingered at the gate of the city's job fairs with his resume and sometimes slept on the street.
    Gao finally was employed by a bottled water company, to deliver bottled water. The boss exempted him from a 300-yuan deposit after learning his story.
    "I hadn't walked out of the shadow of my failure during that period and even was afraid of receiving calls from my family," Gao said.
    Gao rode a bicycle and delivered 10 big bottles of water each day.
    After six months, Gao acquired a driver's license for large vehicles and became a bus driver.
    Lending a helping hand
    "I'm deeply grateful for all the people who used to help me, which made me feel care at the lowest ebb in my life," said Gao, who decided to try his best to help people in need, choosing to become a volunteer in Shenzhen.
    Last year, Gao started giving monthly cash subsidies to a local family, in which a 5-year-old girl shouldered the burden of taking care of her cancer-ridden father.
    After the girl's father passed away, Gao made the girl his goddaughter. He visits her each month by taking a 2.5-hour bus ride.
    "I hope to help the girl feel the warmth of family and walk out of the shadow of losing her father," Gao said.
    Gao also lends a helping hand to many others like the girl.
    Influenced by Gao, his colleagues and his son have joined the team of volunteers in their spare time to help people in need.
    "I have gone through life like a roller coaster. Strings of misfortunes gave me a meaningless life but volunteer work in Shenzhen has helped me find the meaning of life," Gao said. "I feel fulfilled each time I'm involved in volunteer work."
    Gao is a happy bus driver and has made a lot of friends.
    By virtue of his hard work in Shenzhen, he finished paying all of his debts last year.