Starring: Dwayne "The Rock" Johnson, Michael Caine, Josh Hutcherson, Luis Guzman, Vanessa Hudgens Director: Brad Peyton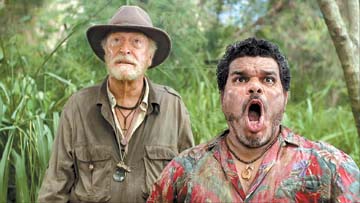 AFTER receiving a mysterious message from his grandfather, a young man obsessed by adventure and stories by Jules Verne makes plans to look for the Lost City of Atlantis.
    In the hopes of bringing the young boy to the realization that his grandfather simply has a big imagination, his mom's boyfriend offers to travel with him to search for the mysterious island. Once they arrive, they hire a helicopter pilot who brings his daughter along, and the group ends up on a whirlwind adventure.
    "Journey 2: The Mysterious Island" has been given a PG rating. It features Dwayne Johnson along with giant insects in a special effects-heavy escapade. And most importantly, this sequel to the Brendan Fraser-starring "Journey to the Center of the Earth" is well deserving of the children-friendly rating.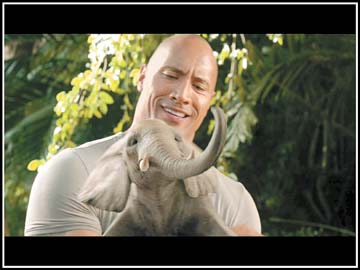 If you are expecting a grand spectacle that will thrill you to the core, you will be sorely disappointed. This is the type of "cliffhanger" that kids will enjoy thanks to the always amiable Johnson, who plays mom's boyfriend to rebellious teenager Josh Hutcherson — Fraser's nephew in the original.
    In this sequel, Hutcherson plays Sean, a teen adjusting to life with his mom Liz (Kristen Davis) and her tough new boyfriend named Hank (Johnson) — Fraser is not involved in the sequel at all.
    When Sean gets a Morse code message from someone he thinks may be his grandfather (Michael Caine), he gets a little help from Hank to decipher it. The message claims that old gramps has discovered the Lost City of Atlantis and he insists that Sean come join him on his journey.
    As far as an action adventure, the movie is strictly for the family set. For those of you who love Johnson but prefer the more badass version of the man, you won't get that here. He exchanges a number of goofy jokes with fellow cast member Luis Guzman, a helicopter guide named Gabato with a pretty daughter named Kailani (Vanessa Hudgens). Thus he lets his silly side shine whether the jokes work or not.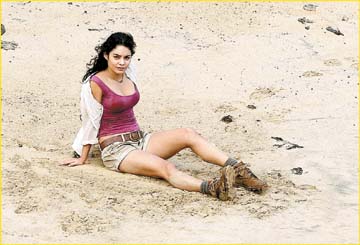 In one of the more memorable moments, Johnson picks up the ukulele Kailani has been carrying and sings his own version of "What a Wonderful World." Sure, it is a little ridiculous, but it's hard to resist Johnson's surprisingly decent voice and his infectious energy. And trust me, children will love this part.
    "Journey 2: The Mysterious Island" is a children's adventure that will introduce them to Jules Verne in a fun and memorable way. This is a slightly educational, generally fun family film. The story is a bit outlandish and the dialogue is far from smart, but the young ones will be entertained and it won't be too painful for the adults thanks to Johnson's likability factor.
    The movie is now being screened in Shenzhen.
    (SD-Agencies)