QINGDAO has made it a key goal in the next five years to become a modern international city boasting a high quality of life.
    The goal is expected to be achieved through the accelerated transformation of the economic development mode and better use of the opportunity to build a marine economic zone on Shandong Peninsula.
    Economic scale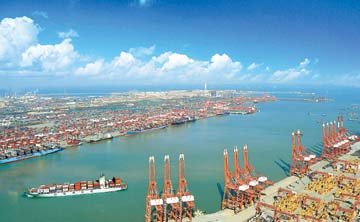 The city aims to give special support to the development of its marine industry in the next five years, striving to create a modern marine industrial system.
    Meanwhile, the city will step up the construction and development of new economic zones on its west coast and attract high-end industries with the help of Dongjiakou port area and bonded port area.
    National and international marine science and research institutions in Qingdao will be given a large role in boosting innovation in the field.
    In addition, the city will accelerate industrial upgrading and foster brands and innovative small and medium-sized enterprises.
    Based on agriculture, the new industrial system will be supported by advanced manufacturing, guided by emerging industries of strategic importance and dominated by the service economy.
    The city is also aimed at becoming a regional center of international air and sea freight transportation, tourism, logistics, finance, headquarters, science and information services.    
    Better planning
    Qingdao will seek to improve urban planning by developing the three core areas surrounding Jiaozhou Bay in different ways.
    The old urban area in the eastern bay will see the acceleration of urban renovation surrounded by mountain and sea scenery. The urban area in the west will be turned into a new zone specializing in marine economy. The urban area in the north is expected to target new high-tech industries.
    The three areas are expected to complement each other in function, which combined to become a core area of Qingdao.
    In addition, the city will develop flood-control facilities, ecological landscaping and modern agriculture along Dagu River.
    The city aims to conduct its urban planning without changing or damaging its rivers, mountains, wetlands, bays and natural reserves.
    The construction of infrastructure, public service facilities and inter-city traffic network will be pushed forward.   
    Cultural industry
    Qingdao aims to complete its public cultural service system in the next five years, benefiting more residents.
    More facilities such as libraries, art and cultural centers, and museums are expected to be built.
    The city will maintain and further develop its reputation in sailing, music and TV production.
    In addition, the city will accelerate its efforts to join the creative city network of UNESCO, raising its international profile.  
    Well-being
    The city will strive to increase the income of its residents while achieving economic development.
    Government efforts are expected to be advanced in developing education, medical care and social welfare, as well as giving better care to senior citizens.  
    Intl. development
    Qingdao will carry out its opening-up strategy more actively in the next five years.
    The city will advance the development of its key industrial parks including the bonded port area and new high-tech zone.
    Efforts will be increased to attract foreign investment, professionals and projects in an innovative way.
    (Li Hao, Yu Feng)