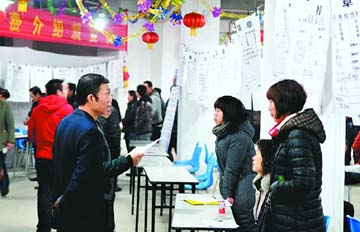 SALARIES at the city's manufacturing and service sectors have increased steadily this year.
    The city's talent markets advertised more than 125,000 vacancies from Jan. 29 to Feb. 3 and 62,000 were filled. Demand in the manufacturing sector was low, while more jobs were offered in the service industry.
    The average salary in Qingdao is close to that in the Pearl River Delta and Yangtze River Delta regions. In Guangzhou, the average salary for a blue-collar worker is about 2,000 yuan, while the salary for a technician is more than 3,000 yuan. In Qingdao, the average salary is more than 3,000 yuan in the machinery and rubber industries. Those working for textile and garment companies earn an average of 2,000 yuan.
    Since last year, the shortage of labor has eased in Qingdao. However, there are still problems in the labor structure, salary and working conditions. For example, many companies rely too much on migrant workers. At present, more than 70 percent of employees are migrant workers.
    (Wang Yuanyuan, Jia Feng)