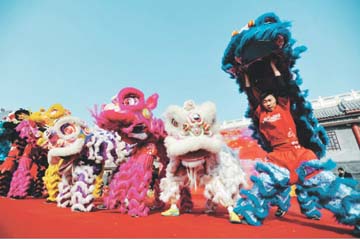 THE final of the lion dance competition at the 23rd Qingdao Haiyun Temple Fair was lauded by many of the 630,000 attendees.
    Among the four teams in the competition, Xiaoyong lion dance association claimed first prize for their advanced skills and elaborate stunts.
    "We won second prize last year. Our efforts have been rewarded," said Ma Xiao, head of the association.
    Ma said his team members all have a hobby of practicing kung fu. Some are students and some have been working.
    (Li Hao, Zhao Jianpeng)