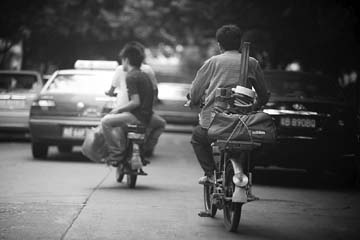 ZHENG XIANDONG, a resident of Xinshi Village, Jingtian, is a scrap collector and requires an electric bike to do his job. He has used to it to transport his children to school, buy food and daily necessities for many years. Yet once the rule takes effect, he will have to find a new, almost certainly more costly, means of transport.
"As soon as the rule takes effect, I will have to simply dodge traffic police. They cannot possibly check for electric bikes every day," said Zheng in an interview last week.
According to a police survey of over 2,000 residents, 70 percent supported banning or restricting the vehicles from roads, 14 percent had no opinion and 13 percent opposed the ban.
Police said the draft was made to improve traffic conditions. The city has 887 bus routes and the coverage of bus stops within 500 meters of the original special economic zone covering Luohu, Futian, Bao'an and Yantian has reached 100 percent.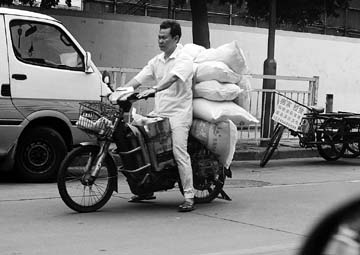 According to police, 80 percent of electric bikes in Shenzhen do not meet national standards in both weight and speed.
The latest national standards require electric bikes to weigh no more than 40 kg and have a maximum speed of 20 kilometers per hour. But some electric bikes in Shenzhen can reach 50 kilometers, posing danger to both riders and pedestrians.
The frequency of traffic violations by riders of the bikes has caused an increase in the number of accidents, according to police.
In 2011, 22 people were killed in electric-bike-related accidents and 34 others were injured.
Residents also called for the police to prohibit use of the bikes as taxis.
"Electric bike retailers and riders are victims of this rule," a resident named Zhou who commutes to Shekou port on his bike, complained.
"Electric-bike riders also have the right to use the roads, the government should tighten management, open special lanes for electric bikes to guard the rights of disadvantaged groups," said another resident surnamed Cao.
According to the draft, electric-bike riders who enter restricted areas or roads or carry passengers, will have their vehicles confiscated and police will impose fines ranging from 200 to 2,000 yuan (US$32-320) depending on the type of violation. Those who ride electric bikes that fail to meet national standards will be fined 1,000 yuan.
Businesses to be affected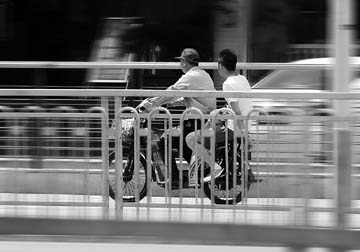 Delivery and postal services that use electric bikes must ensure that their vehicles meet national standards and receive permits from police.
"I have been following the debate in recent months about banning or restricting electric bikes from using roads, as the result will affect us," Chen, manager of the Nanshan Outlet of ZTO Express, said.
Chen added his operating costs would be slightly increased as he would have to replace his vehicles with ones that meet national standards.
"I can't think of any other form of transport that could be used for delivering or collecting mail, using small vans would be too expensive and inefficient," Chen said.
(Han Ximin)