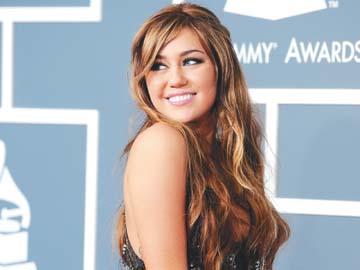 Miley Cyrus has got a tattoo.
    The 19-year-old actress headed to Studio City Tattoo on Saturday night with friends, as well as boyfriend Liam Hemsworth of "The Hunger Games." Cyrus, although she went to the tattoo parlor in a group, was the only one to get inked.
    Cyrus was inked by her go-to tattoo artist, Illya, with the phrase "Love Never Dies" tattooed to her inner left biceps. She posed for a picture next to her tattoo artist to show off the tattoo after getting inked.
    "Love Never Dies" is not Cyrus' first tattoo. She reportedly has 11 others. Cyrus has "Love" tattooed inside her ear, a dream catcher on her side, and "Just Breathe" on her chest, which is a tribute to a friend. She also has a tattoo on her ankle, "Karma" tattooed to her finger, as well as a heart, a peace sign, and a cross, which are located on her fingers. She has an Om symbol on her wrist, a tattoo that fellow Disney star Vanessa Hudgens also has. She also has an anchor on her right wrist.
    Cyrus' most talked about tattoo, however, is her equal sign that is located on her ring finger. The tattoo represents her support of same-sex marriage. Cyrus recently explained that when she revealed the tattoo, it caused her to get mocked on Twitter, and started a war of words.
    "When I shared a picture of my tattoo on my Twitter page and said, 'All LOVE is equal,' a lot of people mocked me — they said, 'What happened to you? Used to be a Christian girl!'" She said in an interview. "And I said, 'Well, if you were a true Christian, you would have your facts straight. Christianity is about love.' The debate resulted in threats and hate mail to people who agreed and disagreed with me. At one point I had to say, 'Dude, everyone lay off.'"
    (SD-Agencies)