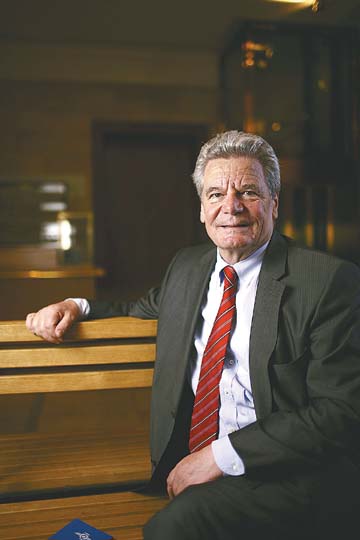 Germany's main political parties agreed Sunday to back a single candidate to fill the country's vacant presidency: Joachim Gauck, a former pastor and human rights activist in East Germany who was defeated for the post two years ago.
JOACHIM GAUCK is a moral authority to be reckoned with.
Gauck, who has been called Germany's answer to Nelson Mandela, was one of a number of Protestant pastors who helped bring down the East German regime, setting the stage for the fall of the Berlin Wall and reunification in 1990.
The 72-year-old, who is married and has four children, ran the State-owned archives on the Stasi after reunification and earned recognition for exposing the crimes of the dreaded East German secret police.
Even after his retirement in 2000, the prolific author continued his campaign for human rights. His new book, "Freedom — A Plea," hits stores nationwide Monday.
His nomination for the largely ceremonial post of president in 2010 was widely popular, but it was opposed by Chancellor Angela Merkel, who instead pushed lawmakers to choose a former member of her party, Christian Wulff, for the job. Wulff resigned Friday amid allegations of improprieties while he was governor of Lower Saxony, creating a political problem for Merkel that she was eager to address swiftly.
Gauck appeared surprised by the turn of events as his nomination was announced, this time with Merkel by his side.
"I am moved that a person who was born in a sinister, dark war and lived for 50 years in a dictatorship and then did his job after reunification — that such a person could be called to the highest office in the country," Gauck told reporters. He was in a taxi on his way home from the airport, he said, when Merkel called his cellphone to give him the news of his nomination.
After Wulff resigned following a request by prosecutors that Parliament strip him of his immunity from prosecution, Berlin was abuzz with Gauck's name. Only the chancellor seemed to be opposed.
But Merkel said she wanted to nominate a candidate whom all parties could back. During negotiations Sunday with other party leaders, she found herself becoming isolated when her junior coalition partners, the Free Democrats, came out in support of Gauck. With the next round of talks on the euro zone's financial crisis looming Monday, she appeared to acquiesce in the face of necessity.
"After intense consideration of various suggestions of possibilities, we arrived at an agreement" on a joint candidate, she said at the news conference Sunday.
Germany's president is elected by lawmakers, not directly by voters. With support from Merkel's center-right coalition, led by the Christian Democrats, and from the main opposition parties, the Social Democrats and the Greens, Gauck appeared virtually certain of election by a special parliamentary committee that is required by law to convene before March 18.
An important task awaiting Gauck will be restoring public faith in the office of president, which is intended to make up in moral authority what it lacks in power. After Wulff's reputation was tarnished by weeks of reports that he had accepted a variety of favors from rich friends, many Germans began to question whether the country even needs a president.
Perhaps Gauck's very moral gravitas is one reason Merkel passed him over in 2010 for the presidency.
Media across the political divide backed him, with mass-selling daily Bild running a picture of him on its front page next to the headline "Yes we Gauck" — a twist on the U.S. President Barack Obama's campaign slogan "Yes we can."
Gauck also presents a stark contrast to Wulff, a regional career politician who resigned last Friday in a scandal over political and financial favors.
Some 20 years older than Wulff, he is more the elder statesman and is not affiliated with any political party, describing himself as "a left-leaning, liberal conservative."
Indeed, before becoming the left-wing opposition's presidential candidate in 2010, he had declined an offer from the conservatives to become president in 1990.
Supporters say the fact he is above party politics makes him the ideal candidate for the largely ceremonial but influential role of president.
Gauck has always struck an independent tone. Born in 1940 in the north eastern city of Rostock, when he was just 11, his father was arrested by authorities and sent to a Siberian gulag.
The young Gauck wanted to become a journalist, but his career plans were thwarted because he refused to join youth associations. Instead he studied theology.
In 1965, he became a Protestant pastor, using the pulpit to preach about human rights.
He went on to become one of the founders of the New Forum, a civil rights movement formed in 1989 in the months leading up to the collapse of the German Democratic Republic (GDR).
"Let's not forget that it was churchmen like Joachim Gauck who helped bring about East Germany's peaceful revolution," Merkel, herself the daughter of a Protestant pastor who grew up in the failed GDR, told a news conference Sunday.
On the last day of the GDR's existence, Gauck became the commissioner to oversee the Stasi archives.
He ensured that the sprawling files were used to root out former Stasi employees and collaborators in public service and to understand the country's past. His commission was unofficially known as the "Gauck authority."
More recently, he has had to defend his decision to keep former Stasi employees working at the archives, workers whose inside knowledge of the Stasi made them, he thought, "indispensable."
Gauck, who appeared alongside Merkel on Sunday, himself warned he was neither a "superman" nor a "man without errors."
The activist, who said he had just rushed into the capital city and had not even had a wash before heading into the press conference, seemed genuinely overwhelmed, saying he was "a little confused" but was bound to feel happy later on.(SD-Agencies)