Anna Zhao
    THE year 2011 was special for Zhang Hong, director of Rainbow Comic and Animation Center, an NGO in Futian District. She launched a series of activities for children with autism and cerebral palsy as well as deaf-mute children.
    A minor incident changed her life in 2009 when she was a part-time art teacher in Futian Culture Museum. She noticed a little girl sitting at her desk and focusing all of her attention on drawing for an hour and a half.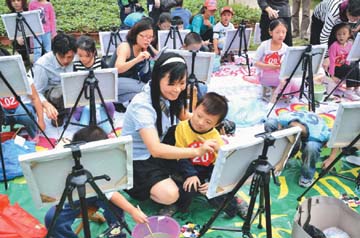 She was surprised at the quality of the child's drawing and was shocked when the child's parents told her the daughter was considered to have severe behavioral problems.
    Zhang had an idea. She started to contact children with disabilities via charities so she could teach them drawing.
    At first, the children were curious about the sketch kit, while parents wondered whether their children would be able to develop the ability to draw.
    "We started taking outdoor classes, they would doodle and get paint everywhere, even on my clothes," Zhang said in an interview last week.
    Autistic children are prone to walk around or clap their hands uncontrollably and children suffering from cerebral palsy need help with every stroke when they draw. Soon, Zhang realized that bright colors such as red were better at focusing their attention.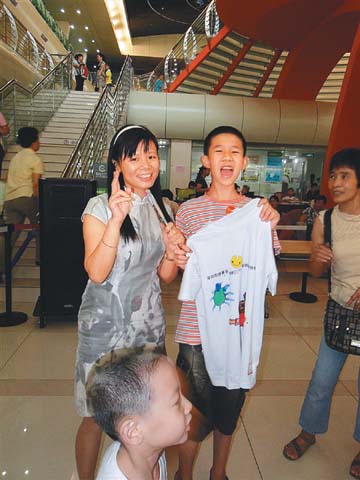 Zhang chose to mix children of sound mind and body with the disabled ones. Rather than being treated separately, the children needed a normal environment, Zhang decided. Children would become more sympathetic toward disabled children after spending more time with them.
    Some parents who had initially been reluctant to let their children participate, told her that their children's eyes, once dull and lifeless, would beam after every lesson.
    "Every time I saw these disabled children carefully stow their drawings away like a treasure, I was overcome with joy," Zhang said.    
    Contest for disabled
    On Jan. 6, Dafen Oil Painting Village of Longgang District witnessed a comic painting exhibition for the disabled initiated by Zhang, the first contest of its kind in Shenzhen.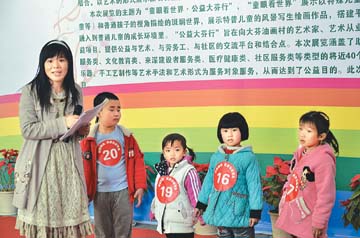 Zhang started to collect paintings by all children, not just the disabled, one month before the exhibition and arranged prizes at her own expenses.
    The comic paintings were mostly landscape sketches which Zhang exhibited in several of the city's parks. Twenty-four paintings by disabled children were picked out to be awarded. However, many children were reluctant to take the stage to collect their awards. Zhang eventually persuaded them to collect their awards in front of the public.
    "I discovered that the way to make them act like normal children was to treat them so," Zhang said.
    Zhang's Rainbow Comic and Animation Center also donated comic books to Kashi children in Xinjiang Uygur Autonomous Region.
    Last June, Zhang launched a campaign to draw "UU" — the mascot of the 26th Universiade at Shenzhen Children's Library, which was entered by 60 normal children and more than 50 disabled children. Children were told to use their imagination to depict the mascot creatively.
    Four rounds of such activities were held in Shenzhen's social welfare homes and Zhang oversaw the activities and tutored the children.  
    Family participation
    Zhang has received much support from her husband Zhong Chuanwei, vice principal of Shenzhen Lianhua Primary School, who voluntarily spent his royalties for a year's worth of writing on his wife's charitable activities. "She is a woman of determination and good temper. I encouraged her because she believed her plan would work," said Zhong.
    Their daughter Zhong Shuxin, a 12-year-old middle school student, said, "I have to take care of myself while my mother spends the weekends with other children. But I love her no less because these children need her." She often helped her mother by taking care of the drawing kit.
    Zhang began to seek donations and discovered that most people were enthusiastic about helping her.
    Last April when they held an Easter egg drawing contest in Futian Shangri-La Hotel, the hotel had also prepared refreshments and presents for the children.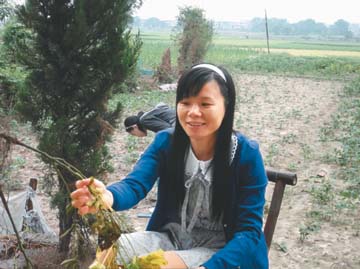 Life in the future
    "As a mother, I feel very lucky to have a healthy child. So I want to dedicate my talent to those who have been deprived of a normal childhood. Luckily, art helps me communicate," Zhang said.
    When asked where the money came from, she said all expenses for their activities and teachers' salaries were paid by her. "I have my pride as an artist so I don't like to 'beg' for money from other organizations in the name of charity, though a large sum of money is needed to realize the plan."
    This year, Zhang plans to stage a children's play. She is seeking experienced teachers and playwrights.
    She has a plan to sell paintings by special children and set up a social enterprise for children of school age by teaching them art painting.
    "What I am doing is opening a window for them. I hope they'll have lives of their own," Zhang said.