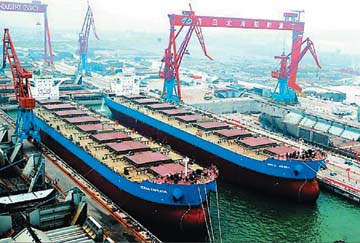 THE Qingdao Qiyao Wartsila MHI Linshan Marine Diesel Co. (QMD) has become one of China's leading ship manufacturing companies.
Since it started operation in 2009, the company has produced more than 65 marine diesel engines, primarily with advanced electronic controls.
Just before QMD's recent significant progress, an 18-ton cargo ship was completed at the Qingdao Beihai Shipbuilding Heavy Industry Co., right next to QMD at Haixi Bay. The ship meets new environmental protection requirements that will be put into effect in 2015. Despite the global economic recession, the company's production volume in 2011 increased by 33.6 percent from the previous year, while its sales revenue grew by 49.8 percent from 2010.
Also at Haixi Bay, four special ships are being built at the No. 1 and No. 2 ports of the Qingdao Wuchang Shipbuilding Industry Co. Costs of building the four ships reached about 1 billion yuan, said Cai Libin, general manager of the company.
In 2011, production volume of the 10 ship-building companies at Haixi Bay reached 15.3 billion yuan, increasing by 29.9 percent from the previous year.
"The company can not only build regular cargo ships, but also high-end, specialized ships. This is crucial for our company's acquisition of orders. The company might get ship-building and marine-engineering orders worth more than US$500 million this year," Cai said.
China's ship-building industry is becoming one of the best in the world, a result of its modern equipment, high-end technologies and advanced management, said Li Zhushi, vice chairman of the Chinese ship industrial association.
Haixi Bay's ability to gain orders with high added values is key to its success, said an official from the development zone's bureau of development and reform.
(Wang Yuanyuan, Han Guangliang, Zang Fugui)