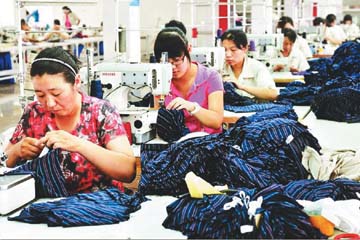 DESPITE the negative influences of price increases for raw materials, appreciation of the RMB, deflation of financial policies and a global economic recession, Qingdao's private textile companies have made progress in the past year.
Many companies are seeking new development through technology upgrades and product innovations.
"Low-profit industry has no tomorrow without technology upgrades. Our company opened automated production lines last year and saved a lot of labor costs," said Chen Yucai of Qingdao Kangwei Button Co., which produces buttons of all kinds for European clothing companies. Their number of orders in 2011 was similar to 2010, but automation helped increase their profits by about 10 percent in 2011.
Several other private companies also saw increased profits in 2011 as a result of technological innovation.
Insiders said such innovations are very important in the textile industry. Textile products for industrial uses include basic materials for areas such as alternative energy, sustainable development, medical manufacturing and infrastructure construction.
Factors such as labor costs and global markets have little influence on the industry.
Labor costs will continue rising in the next few years, so companies should increase their efficiency through technology upgrades and management transformation, a Qingdao official said.
(Wang Yuanyuan, Wang Yu)