THE 10 boats competing in the 2011-12 Clipper Round the World Yacht Race have arrived at Olympic Sailing Center in Qingdao, completing the fifth leg of the eight-leg, 11-month race.
    Foreign sailors competing in the race have been invited to visit the city's residential communities to get a taste of local customs.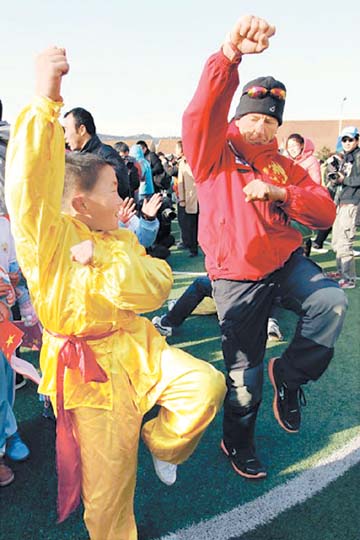 A 38-year-old British sailor, Jim Stam, and a 53-year-old Australian sailor visited a local family, where they were shown Spring Festival scrolls.
    After learning the meaning of the words on the scrolls, the two sailors insisted on pasting them on the gate of the family's house. The sailors also took a photo with the family in front of the scrolls.
    At a primary school in Laoshan District, 25 sailors learned Chinese kung fu from students. They watched a kung fu demonstration by students and tried to copy the maneuvers.
    In Wanggezhuang Village, known for its large, steamed buns, foreign sailors watched the cooking process then tried to make steamed buns themselves.
    All the sailors were excited to eat the steamed buns they had learnt to make.(Li Hao, Sun Fei)