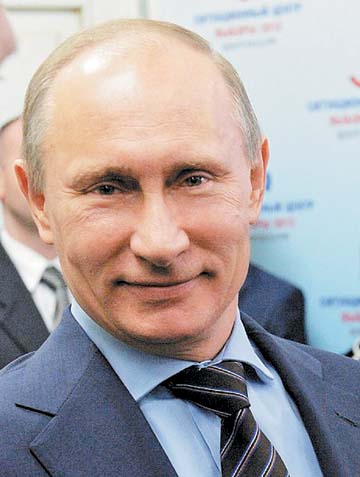 Vladimir Putin faces a very different country from the one he took over when he was first elected in 2000. If he fails to reconstruct himself, Putin is likely to preside over protest, stagnation and disillusion in his third term.                               
AS expected, Vladimir Putin easily won Russia's presidential election, securing a fresh six-year term to bolster his 12-year reign at the country's helm.
Putin's opponents accuse him of rigging the March 4 vote, and a newly emboldened pro-democracy movement will inevitably protest the Russian election. Still, Putin continues to enjoy widespread support in Russia's provinces, where many credit him with pulling Russia out of the chaos that followed the collapse of the Soviet Union. Even the pro-democracy movement is filled with middle-class urbanites who benefited materially from the economic boom times that Putin ushered in.
"A special thank you to those who gathered today in Moscow, who supported us in every corner of our limitless motherland, to all those who said 'yes' to our great Russia," Putin told his supporters when declaring his victory. By "Russia," Putin meant himself. A tear — later blamed on the cold wind — rolled down his face.
"We won! We won in an open and honest battle! Thank you friends, thank you!" said Putin. This was the speech of a conqueror in a hostile capital. Moscow gave Putin less than half of its votes. More than 20 percent went to Mikhail Prokhorov, a liberal business tycoon.
Putin will be sworn in on May 7 after winning 63.6 percent of the vote. He said he will discuss his new team's makeup with President Dmitry Medvedev.
He suggested Wednesday a seat in the Cabinet for his reform-minded rival Prokhorov but vehemently rejected opposition claims of fraud in his crushing poll win.
The Russian strongman had until now said little about his return to a third term in the Kremlin and gave few indications Wednesday about whether he was ready to offer concessions to the first protest movement of his 12-year rule.
Putin slapped at his foes, criticizing them as failing to offer a constructive program and daring the opposition to become a real political force by proving its worth at the ballot box.
The Russian leader's tough remarks indicate he has no intention of softening his policies in response to massive protests that have revealed the depths of public anger over his 12-year rule. "Those who lose never like their defeat," a beaming Putin said.
Putin, who has steadily rolled back Russia's post-Soviet freedoms to tighten controls over the political scene, suggested that his opponents take advantage of Kremlin-drafted bills yet to take effect that ease restrictive registration rules for political parties and liberalize campaign rules.
The urban professionals who have risen up against Putin are the very people he needs to move Russia forward. So far he has shown few signs of understanding who they are and what they want.
How Putin responds to the challenge, and whether he can stop the protests from spreading, will play a crucial role in determining the fate of his new term as president and of Russia itself.
Now that his return to the Kremlin is secured, the big question is how Putin will respond to the protests and the deeper grievances they represent.
Putin has made no attempt to reach the new generation of educated, urban Russians and doesn't seem to know how. Even his humor, often crude and filled with references to old Soviet films, falls flat. He appears to be betting that he can contain the protesters' anger and prevent them from broadening their appeal.
The danger to Putin is the Russian economy, still dependent on exports of oil and gas despite grand plans to modernize industry. To consolidate his support ahead of the election, Putin threw money at all sectors of the population, promising billions of dollars in new spending that will severely strain the budget. If Putin doesn't deliver, his support base may turn against him. And if the workers, teachers and government employees who were bused to Putin's campaign rallies decide to join the opposition protests instead, he's doomed.
Putin became acting president Dec. 31, 1999, when President Boris Yeltsin resigned in a surprising move. Putin won the 2000 presidential election; in 2004 he was re-elected for a second term lasting until May 7, 2008.
During his presidency, Putin passed into law a flat income tax of 13 percent, a reduced profits tax, and new land and legal codes. His energy policy has affirmed Russia's position as an energy superpower. Major projects which he endorsed included the construction of several major export pipelines, including ESPO and Nord Stream, and the restoration of the nuclear industry in the country.
While the Putin presidency has been criticized by Western observers and domestic opposition as undemocratic, Putin's leadership has enjoyed considerable popularity in Russia since 2000 and continuously high approval ratings.
(SD-Agencies)
Putin's victory:
Why it matters
VLADIMIR PUTIN is heading back to the Kremlin — but for the last four years it often felt like he'd never left. As prime minister, he remained Russia's dominant political figure, his drive, sharp tongue and cocky bearing overshadowing his affable but mostly feckless successor Dmitry Medvedev.
Yet although he was still effectively Russia's leader, his return to the presidency is more significant than simply switching titles for several reasons.
Foreign policy: The president directs the course of foreign relations and represents Russia at summits and high-profile trips, roles that Putin appears to relish more than Medvedev did. While Medvedev appeared amenable to the Obama administration's "reset" initiative, Putin takes a much dimmer view of Washington and the West in general. He could toughen Moscow's opposition to placing U.S. missile-shield systems in Europe, firm up Russia's resistance to international military intervention in foreign conflicts such as Syria and push for more Russian influence in former Soviet republics.
Reforms at home: In his 2000-2008 presidency, Putin oversaw a considerable retreat from post-Soviet Russia's nascent democracy and media freedom. Putin has shown little sign that he's become more tolerant of opposition or critical news coverage. He has promised to make Medvedev prime minister in order to allow him to pursue his reformist ideas.
Business: Russia still hungers for foreign investment. Putin as president is likely to both please investors and worry them. His top-down management style ensures a measure of the stability that investors seek. But he is seen as an enabler of Russia's endemic corruption, which makes doing business in Russia often expensive, inefficient and dirty. Medvedev was more forthright about corruption — and apparently more interested than Putin in weaning Russia's economy away from its dependence on natural resources.
The intangibles: When he's not glaring at an opponent or giving a thin, wintry smile, Putin can be a man of considerable charm — down-to-earth, humorous, fond of dogs. This range of qualities makes him an emblem that Russians can relate to, and he's used his charisma to boost Russia's successful bids for major sports events including the Winter Olympics. Medvedev, pleasant and inoffensive, was eminently forgettable. When the world thinks of Russia, it sees Putin's face.
(SD-Agencies)