Li Hao
    HE has traveled to Tibet in southwestern China 11 times, via eight different roads, and crossed the "no-man's land" in northern Tibet three times since 1990, which he claims to be a record.
    Surely, his achievement is a record for most people. Many consider a trip to the high altitudes and gorgeous scenery of Tibet a once-in-a-lifetime event.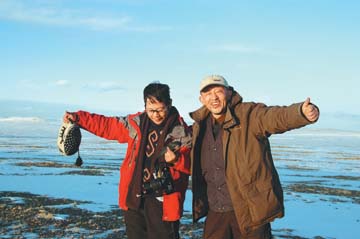 Not so for Zhang Pengyao, who came to Shenzhen in 1992 to work as a policeman and is now more than 60 years old and retired.
    A Gansu Province native, Zhang and his partners completed each expedition through bravery and optimism.
    Zhang has written and published "Walking Ten Roads Leading to Tibet" to record his unforgettable journeys.  
    First time
    Zhang remains proud of his first journey to Tibet at the beginning of the 1990s, when he was still a policeman catching pickpockets in Lanzhou, capital of Gansu Province.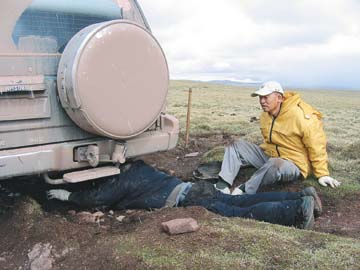 Zhang asked a truck driver in his police station to drive him to Tibet. To cover fuel costs, they bought beers in Lanzhou and sold them in Lhasa, capital of the Tibet Autonomous Region.
    Sitting on the beer bottles in the truck, Zhang spent the long drive feeding his eyes with amazing scenery, including Riyue Mountain, Qinghai Lake and Tanggula Mountains.
    In addition to stresses from the high altitude, Zhang also remembers how he and others sold beers on Lhasa streets — the sales paid for part of their entire trip.   
    Travel buddies
    Encouraged by that first journey, Zhang started organizing group expeditions to Tibet by recruiting travel fans, doctors and friends — all ordinary people who like to travel, rather than professional or amateur adventurers and explorers.
    Zhang's experience and age made him commander-in-chief among the travelers.
    Before each departure, he always repeatedly reminded inexperienced people to take necessities. Zhang's responsibility and care earned him a strong reputation among traveling partners.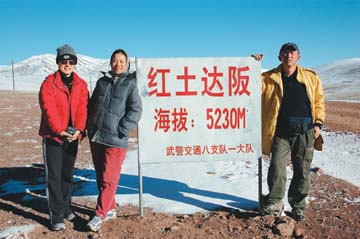 Zhang also wrote down traveling tips and situations travelers might encounter on the way, then gave the helpful guides to each fellow traveler.
    Travelers came to see Zhang as a stubborn but cute old man. He always had one or two doctors join each journey, which he called "the best insurance."  
    Ancient path
    After visiting Tibet several times, Zhang started thinking about taking a special route, to follow the steps of Princess Wencheng in ancient China's Tang Dynasty (618-907).
    Princess Wencheng left for Tibet in 640 and arrived there the next year, to marry the 37-year-old Songtsan Gampo, 33rd king of the Yarlung Dynasty of Tibet, in a marriage of state as part of a peace treaty that also included large quantities of gold.
    In the summer of 2006, Zhang studied history books and maps, designing a route that followed Wencheng's ancient path to Tibet.
    However, unexpected hardships awaited on the route, which people from outside of Tibet rarely followed.
    When Zhang's group arrived at the Tanggula Mountains, for example, their SUV became stuck in marsh that they had not expected because of their unfamiliarity with the route.
    Group members couldn't remove the vehicle from the quagmire and were forced to endure a harsh, cold stay on the Tanggula grassland, as temperatures dipped below zero.
    Zhang and his companions started the SUV's engine every hour, so the radiator wouldn't freeze.
    Three days passed. Zhang even prepared his last words. But a final effort by the driver got the vehicle out of the muck, bringing Zhang to tears of joy.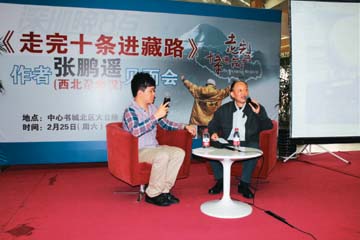 The group took pictures to commemorate their accident.
    Family concerns
    In addition to fights against hardships on each trip, Zhang also struggled to alleviate his wife's worries about his safety.
    He planned and completed his first trip to Tibet without her knowledge, because she had gone to Beijing for business.
    Each time he completed a Tibetan trip, Zhang tried his best to ease his wife's concerns. In his book, Zhang tells stories of his wife and son coping with his adventures.
    Zhang couldn't call his family for three days, for example, when he was stranded on the Tanggula grassland. His son put aside work and organized a rescue team to travel to Tibet and search for him.
    Although he managed to get out of the plight before the rescue team reached him, Zhang still feels proud each time he mentions his son's efforts.