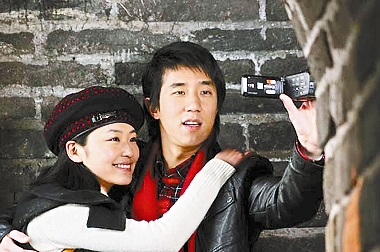 MICROMOVIES are creating very large audiences for very small films online in China.
    Youku, the popular video and television Web site similar to YouTube, took a major step forward in its micromovie efforts last week with its "Beautiful 2012" initiative, which capitalized on the Hong Kong International Film Festival to debut four micromovies by award-winning Asian directors. Directors of the short films — each lasted about 10 minutes — were Gu Changwei from the Chinese mainland, Ann Hui from Hong Kong, Tsai Ming-liang from Taiwan and Kim Tae-yong from South Korea.
    The micromovies featured star performers including Lee Kang-sheng and Wu Cheng-yu, two excellent actors well known in Taiwan and Hong Kong, respectively.
    The four short films will be edited and integrated into one feature film that will be part of the Cannes Film Festival in May, according to Thursday's Shenzhen Economic Daily.
    China has seen a sharp increase in the number of micromovies online, as well as an improvement in their quality.
    "As a special art form, the micromovie has a unique expression technique and medium, providing moviemakers with a more flexible and convenient communication platform that can't be matched by traditional media," said Roger Garcia, executive director of the Hong Kong International Film Festival Society, a charitable, nonprofit and nongovernmental organization dedicated to the discovery and promotion of creativity in the art and culture of film.
    Chinese film director Zhang Yang said doing a micromovie gives him a sense of returning to past times, "when it was a simple thing to shoot a movie." "I'm not doing any feature films this year. Instead, my focus will be on micromovies in the latter half of the year," Zhang said.
    The fast development of video Web sites and the fierce competition among them are largely contributing to the popularity of micromovies.
    As opposed to buying feature films, video Web sites are increasingly more likely to make their own micromovies, which costs less.
    Numerous micromovies funded by Youku, including "Old Boys," are receiving significant hits online. "Old Boys" tells the story of two men who revive their youthful dreams of becoming performers.
    "We pay directors to make micromovies, then play them on the Internet for free. However, we will probably charge for some of the more outstanding movies in the future," said Wei Ming, vice president of Youku. "What we need to do now is foster an online movie market."
    Insiders say the future of micromovies is prone to rapid changes and still uncertain, since only a limited number of micromovies are achieving a wide influence among audiences so far.
    No policies have yet been set regarding the management of micromovie distribution online. (Li Hao)