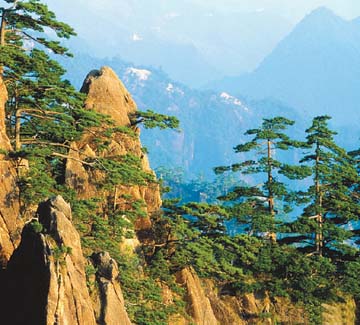 Spring is an ideal time to climb mountains in China, with warm weather and lush vegetation. For hikers who want to explore some famous mountains and experience Chinese history and culture, here are some destination peaks that offer a change of pace from Guangdong Province.
 Lushan National Park, Jiangxi Province
Lushan National Park, in the north of Jiangxi Province in southeastern China, is a UNESCO World Heritage Site that includes hundreds of peaks spanning about 250 square kilometers.
Its highest point is Great Hanyang Peak, at 1,474 meters above sea level. The Lushan Mountain boasts mighty peaks, roaring waterfalls, mysterious clouds and mists, sacred religious sites, an ancient academy, hot springs, lakes, numerous remains of the Ice Age, a world-class botanical garden and many Western-style villas, according to the UNESCO Web site.
The Lushan Mountain is not only an important cradle of China's wilderness culture, but also the birthplace of China's pastoral poems. More than 1,000 stone inscriptions remain well-preserved.
Transport: Take a train to Jiujiang City from Shenzhen Railway Station and take a coach to the mountain, about 35 kilometers south.
Hengshan Mountain,
Hunan Province
The Hengshan Mountain area is found in Hengyang City, Hunan Province. The area is composed of 72 peaks and known for its lush, green vegetation, including centuries-old trees and a vast primeval forest. Some trees that are 300 to 400 years old still bloom every spring. Other trees are more than 1,000 years old.
The Hengshan Mountain's peaks offer sweeping views of sunrises, rolling clouds and oceans of trees. The magnificent views are known as the "four oceans," meaning an ocean of flowers, ocean of trees, ocean of clouds and ocean of snow.
The area also is sacred to Buddhism, with abundant temples. Nunneries and Taoist temples also can be found. The most notable religious site is Nanyue Temple, the largest temple among the Wuyue Mountains (a collective name given to five famous mountains in China).
Transport: After the high-speed rail opened April 1, take the high-speed train at Shenzhen North Railway Station to Hengshan West Station, then take a coach to the mountain.
Taishan Mountain
Shandong Province
Located in Shandong Province, the Taishan Mountain is one of the most important mountains in Chinese history. Dense forests complement ancient temples that have inspired imperial pilgrimages for 2,000 years. Artistic masterpieces found in the temples harmonize with the natural landscape. The Taishan Mountain has always been a source of inspiration to Chinese artists and scholars, and symbolizes ancient Chinese civilizations and beliefs, according to UNESCO's Web site.
Cultural relics include memorial objects; ancient, complex architecture; stone inscriptions; and significant archaeological sites. For more than 3,000 years, Chinese emperors of various dynasties have made pilgrimages to the mountain for ceremonial purposes.
The Taishan Mountain is also an important center of religious activities for Buddhism and Taoism. Temples are abundant.
Transport: Fly to Jinan, capital of Shandong Province, and take a train or coach to the mountain.
Huangshan Mountain,
Anhui Province
Located in Anhui Province, Huangshan is an international ecotourism destination that UNESCO named a World Cultural Heritage Site in 1990.
Known for its unique, oddly shaped pines; jutting rocks and geological formations; wispy, hovering clouds and clear hot springs, Huangshan is known in China as "the No. 1 mountain under heaven."
Translucent pools and churning waterfalls contribute to the mountain's dreamlike ambience, which creates a real-life display of China's most famous ancient art pieces.
Transport: A direct plane flies between Shenzhen and Huangshan twice a week. You can also take a train from Shenzhen Railway Station to Huangshan City.
   (Wang Yuanyuan)