In the spring, the country's most famous mountains offer colorful flowers, pleasant weather and religious significance. For hikers who want to explore unparalleled scenery, history and culture before the worst of the summer heat, here are more destinations from which to choose, as a continuation of our review of China's famous mountains that began last week.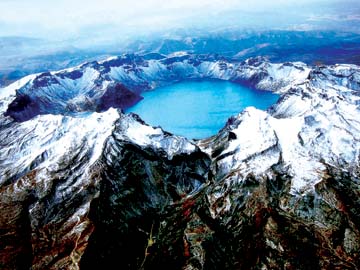 Songshan Mountain
Located in Henan Province, Songshan Mountain rises 1,500 meters above sea level and is one of the sacred Taoist mountains in China. Its slopes feature many important Taoist temples, such as Zhongyue Temple, one of the earliest Taoist temples in the country.
But Songshan Mountain is widely known to the world mostly because it's the home of the renowned Shaolin Temple.
Founded in the 5th century, the temple is famous for its association with Chinese martial arts. In addition to Shaolin Kung Fu, the temple is considered the birthplace of Zen Buddhism and its collection of stupas — mound-like structures or monuments that usually contain sacred Buddhist relics — is the largest in China. It was listed as a UNESCO World Heritage Site in 2010.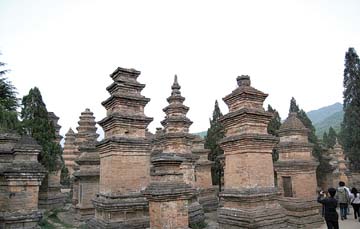 Songshan Mountain also is home to many other temples and ancient religious venues such as Songyang Academy, Taishi Temple and Fawang Temple.
The mountain offers 12 famous scenic spots, featuring peaks, rocks, valleys, rivers and waterfalls. Luya waterfall, the star observation platform, Shaoshi Mountain and Taishi Mountain all are must-see spots.
Transport: Fly to Zhengzhou, capital of Henan Province, from the Shenzhen International Airport and take a coach to the mountain. The flight takes around two hours and the bus ride takes 90 minutes.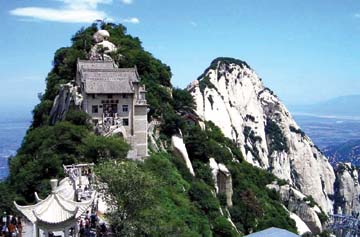 Huashan Mountain
Located in Shaanxi Province, Huashan Mountain also is one of the country's Five Sacred Taoist Mountains, with a long history of religious significance. Its highest peak is about 2,155 meters above sea level.
The mountain is described as the most dangerous mountain in the country, with two walking trails from the bottom to the top. The narrow trails were reinforced in the 1980s. Many people like to climb up the East Peak at night, because they think it is wiser not to see the extreme danger of the tracks.
There are now more than 20 ancient Taoist temples on the mountain, including Yuquan Temple, Dongdao Temple and Zhenyue Palace. Buddhist temples also can be found.
Huashan Mountain has 72 caves, many of which overhang cliffs and seem to nearly hang in the air.
Transport: Take a train to Huashan Mountain from Shenzhen West Railway Station. The ride is around 11 hours.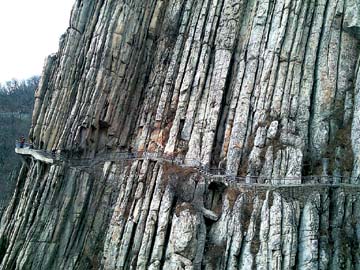 Changbai Mountain
Changbai Mountain is a mountain range that extends from Heilongjiang, Jilin and Liaoning provinces in Northeast China to North Korea.
Most of the peaks reach more than 2,000 meters.
Its high elevations mean travelers can experience different environments, from all four seasons, while hiking from the bottom to the top of the peaks.
Changbai Mountain has played a very important economic role in past centuries, as a variety of ginseng grows there. It also used to be an important route for trading between China, Russia and North Korea.
Many rare animals, including bears and Siberian tigers, live in these mountains. The national Changbai Nature Reserve in Jilin Province protects wild animals and rare plants such as Amur linden, Korean pine, maple and elm.
Changbai's famous scenic spots include Jingjiang Great Valley, Tizi River, Qingshi Peak, Jingping Peak, Guanri Peak, Longmen Peak, Little Heaven Pool, Baishan Waterfall and Songjiang River. Heavenly Pool, Changbai Grand Waterfall, Heifengkou, Thermal Springs, Forest of Meiren Pines and Forest of Stones are must-see spots in the spring.
Swimming is not allowed in spring, autumn and winter, because of low temperatures.
Transport: Fly to Shenyang, Liaoning Province, from Shenzhen International Airport. The flight takes around five hours. Take a train to Erdaobaihe Township, which takes around 13 hours. Rent a car to Changbai Mountain. The bus ride takes 40 minutes.
(Wang Yuanyuan)