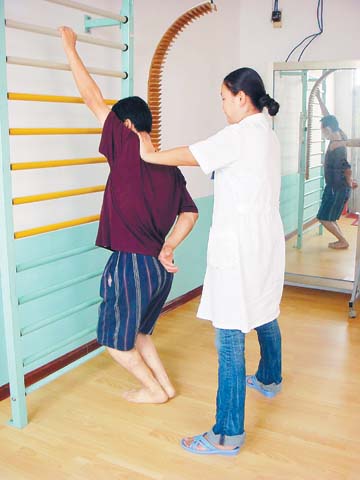 THE city will strive to complete a social security and service system for disabled people by 2015, according to a plan.
    The city will try to provide rehabilitation subsidies and services to 90,000 disabled people in the next five years, giving 50,000 free devices.
    Meanwhile, each district will construct at least one comprehensive rehabilitation institution of no less than 3,000 square meters.
    Rehabilitation facilities in residential communities will also be built within a 20-minute walking distance from disabled people.
    In addition, the city will seek to give a two-year rehabilitation to all its disabled preschool children in the next five years. No tuition fees will be charged to disabled students at high schools.
    The district with more than 300,000 residents will be required to construct a special education school where students will not have to pay tuition fees.
    To facilitate employment of disabled people, the city's government departments will be required to give fair treatment to qualified disabled jobseekers.
    Besides, subsidies will be offered to help disabled people start their own businesses. The city aims to see the employment of 5,000 disabled people in the coming five years.
    Technical training will be provided to 10,000 disabled people in rural areas by 50 poverty-relief bases.
    In addition, the city government aims to offer support to 1,000 disabled people in rural areas who are starting their own businesses.
    Cultural and sports facilities will be completed for disabled residents.(Li Hao, Li Lili)