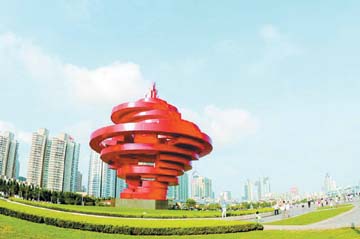 QINGDAO, along with Chengdu, capital of Sichuan Province, has been a model city in piloting low-carbon and sustainable development.
Low-carbon development is an economic mode based on low energy consumption, low pollution and low emission," said Dr. Wang Ke from Renmin University of China who participated in making the plan.
Pressure
For a long period of time, coal and petrol have been the main sources of energy, accounting for more than 90 percent of total energy consumption. Moreover, forest coverage is not very big in the city with low forest carbon storage.
With the fast development of urbanization and industrialization, heavy and high-carbon industries such as petrol processing, tire production, chemical fiber and cement production has been increasing rapidly. Under such circumstances, the city has to find out an effective way to lower carbon emissions.
International cooperation
Qingdao is the only city delegation to participate in a conference on Chinese Government's policy and action against global warming.
Since 2010, the city has signed agreements with several multinational corporations on exploring a national-level joint-venture low-carbon economic zone.
Model zone
The city's west costal new economic zone will become a pilot in low-carbon development with its landmark project — Sino-German ecological park.
As a new international cooperation window, the park will create a low-carbon, ecological and sustainable standard and incubate low-carbon industries such as energy saving, new energy and creative design, promoting a new-energy development mode.
(Wang Yuanyuan, Lin Gang)