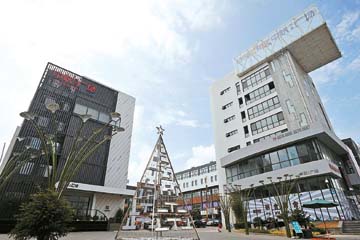 THE cultural and creative industry has become one of the city's pillar industries. The city's more than 18,600 cultural and creative enterprises achieved added value of over 50 billion yuan last year.  
    Factories transformed
    The city started renovating its old factory buildings in 2006 for the use of the cultural and creative industry, providing space for designers.
    Qingdao Creative 100 Industrial Park, which is located in an old five-floor embroidery factory building, is home to various creative enterprises, concerning creative gift design, film and TV design, graphic design, as well as studios for oil painting and traditional Chinese painting.
    Manager of the park, Deng Bin, said it has been sparing no efforts to develop its creative gift design industry, which covers design, production and sales in the industry.
    A painter from Jingdezhen City in Jiangxi Province, Guo Xiongfei, has opened a porcelain studio in the park.
    "The park management is responsible for marketing and sales, integrating my creative ideas into products. I can focus on design and research in the park," said Guo.
    Located in Shibei District, Zhonglian U Valley 2.5 Industrial Park is on a site which used to belong to two factories that went bankrupt.
    The park is home to enterprises of creative industrial design, creative architecture design and cultural communication, and achieved a total output of almost 2 billion yuan last year.
    Among the other cultural and creative projects built in old factory buildings are Qingdao Beer Street and Qingdao Beer Museum.   
    Industrial clusters
    The city has also constructed clusters of cultural and creative enterprises.
    With an investment of 630 million yuan from Shinan District Government, Qingdao International Animation Game Industrial Park has gradually covered the whole industrial chain in the animation game industry since its opening in 2009.
    The park has absorbed investment from Europe, the United States, Japan and South Korea. The enterprises in the park have total registered capital of more than 200 million yuan, which contributes to the park's yearly output of around 800 million yuan.
    The city has established 35 creative industrial parks and bases, costing a total of 18.5 billion yuan and generating 6 billion yuan each year.    
    Creative city
    More than 600,000 people are working in the city's cultural and creative industry.
    The city has laid down and released a series of policies and regulations to support industrial development.
    Last year, 12 commercial banks in the city signed agreements to provide loans totaling 758 million yuan to 17 cultural and creative enterprises.
    The director of the cultural system reform office of the city's publicity department, Zhou Liankun, said the city plans to build another cultural and creative industrial park totaling 10 million square meters by 2016, helping the development of the cultural and creative industry.
    (Li Hao, Xu Bing, Zhang Xudong)