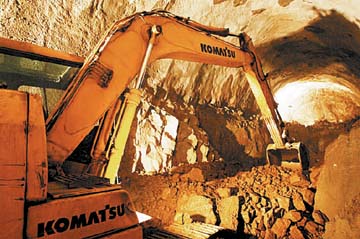 QINGDAO Metro station on Jiangxi Road and the channel between Jiangxi Road and Ningxia Road were connected April 26.
It is the first Metro station to connect with the underground channel, marking significant progress in the first phase of Metro construction.
Jingxi Road station will be built into a two-story station with a length of 247 meters.
Passengers can buy tickets on the first floor and take the train on the second. Two ventilation pavilions will be built at the station so that passengers need not worry about the waste air in the channel.
At present, the 22 stations on Metro Line 3 are under construction, with the control center to start construction soon.
Meanwhile, evaluation of Metro Line 2 and the initial designing plan were also finished recently, and the line is set to start construction.
Metro Line 3 will connect Qingdao Railway Station and Qingdao North Railway Station with 22 stations. The total length is 24.9 kilometers and investment has exceeded 15 billion yuan. It is expected to start operation at the end of 2014.
(Wang Yuanyuan, Tian Lu)